Palmyra in 360: RT travels to 2,000yo gem rescued from ISIS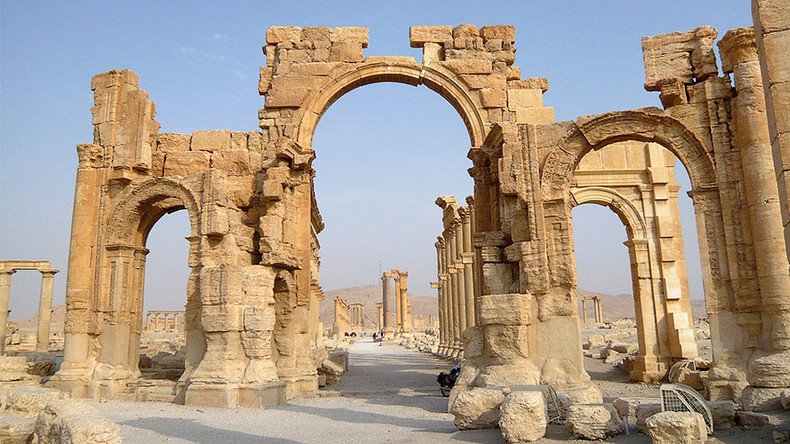 RT's Murad Gazdiev is in Palmyra, Syria, revealing the magnificent ancient heritage – as well as the terrifying destruction by Islamic State (IS, formerly ISIS/ISIL) – first-hand in 360 degrees.
In the exclusive around-view video, we first travel to Palmyra's centuries-old amphitheater, which served as the location of the terrorists' blood-chilling execution-style murders.
"It's on this stage that ISIS held the massacre they filmed, when they forced children to execute about two dozen prisoners," RT's Murad Gazdiev says.
It's a wonder that terrorists didn't destroy the ancient monument, he adds, like they did so many others in Palmyra.
We get to see what is outside the amphitheater, and despite looking at what seems to be an entire city of ancient pillars, it's easy to realize how much was crushed by the terrorists.
"This is what ISIS's handiwork looks like. This is where they blew [up] one of their bombs, destroying a structure that has stood for 2,000 years, survived countless kings, dynasties, rulers, empires, only to be brought down by frenzied jihadists," Murad says, gesturing towards one of the many piles of stone debris.
Archaeologists' and historians' lives were lost to the terrorists' desire to kill and maim, along with the monuments.
When only freshly-liberated, though, Palmyra was still in danger.
"This was all, by the way, heavily mined. It took Russian sappers weeks and weeks to clear just the vicinity of the amphitheater."
"Have you noticed the holes in the ground? Those were mines and booby traps dug out by the sappers," the correspondent adds.
However, whatever is still left of the centuries-old Palmyra is now all the more valued, Gazdiev concludes, while we look at a desert-like landscape, with towering monuments all over the place.
"Now that so much has been lost, what remains is so much more precious."
You can share this story on social media: