6.2 aftershock shakes New Zealand after more powerful earthquake kills at least 2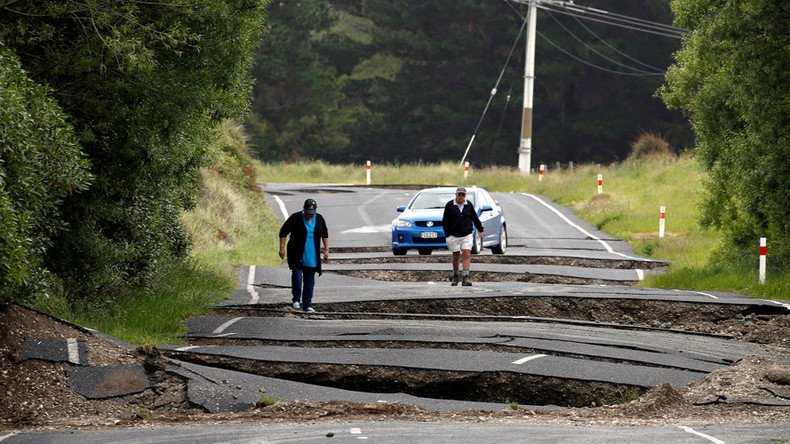 A new earthquake measuring 6.2 has struck 39km west of Kaikoura, New Zealand. This is one of the most powerful in a series of tremors that followed a 7.8 magnitude quake which struck the town, located some 180km northeast of Christchurch, on Sunday.
The quake took place at around 12:30 GMT at a depth of 8.3km and was initially measured at 6.8, but was later downgraded to 6.2 by USGS.
Meanwhile GeoNet, the official source of geological hazard information for New Zealand, measured the latest quake at 6.3 and said its depth was around 35km.
At least two people were killed following the initial quake which struck New Zealand just after 11:00 GMT on Sunday (12:02am Monday local time).
The Ministry of Civil Defense immediately issued a warning saying that a "destructive tsunami" with waves of up to 5 meters (16 feet) was possible. The ministry treated the possibility of a tsunami as "an event of life-threatening or national significance."
Tsunami warning sirens notified residents in coastal areas of New Zealand to leave for higher ground. Police and emergency workers mobilized in the wake of the quake to help with evacuations. Authorities eventually downgraded tsunami warnings around the country after people fled and the waves arrived two hours later.
"We've canceled the tsunami warning in place for Wellington to Banks Peninsula. Based on all available data, the tsunami threat has now passed," Civil Defense said in its latest bulletin, stressing that coastal areas could still "experience unusual, strong currents and sea level fluctuations."
New Zealand Prime Minister John Key confirmed that at least two people were killed. Police said one person died in Kaikoura and another died in Mt. Lyford, a nearby ski resort, AP reported. Police also say that several people had suffered minor injuries in Kaikoura.
A local state of emergency was declared in Kaikoura and Hurunui. Roads in Canterbury and Marlborough have been severely damaged. Trains and ferries between North and South Islands were also affected by the quake. Authorities are now assessing the extent of the damage from the quake.
After the initial 7.8 disaster, all trains on South Island were initially stopped but KiwiRail later resumed services between Christchurch and Invercargill, local media reported.
READ MORE: Tsunami alert lifted after New Zealand earthquake, aftershocks kill 2 (PHOTOS, VIDEO)
Power and phone lines outages were also reported in addition to the structural damage to homes.
"It was the most significant shock I can remember in Wellington," PM Key told reporters. "There will be quite major costs around roads and infrastructure."
You can share this story on social media: