Tsunami alert lifted after New Zealand earthquake, aftershocks kill 2 (PHOTOS, VIDEO)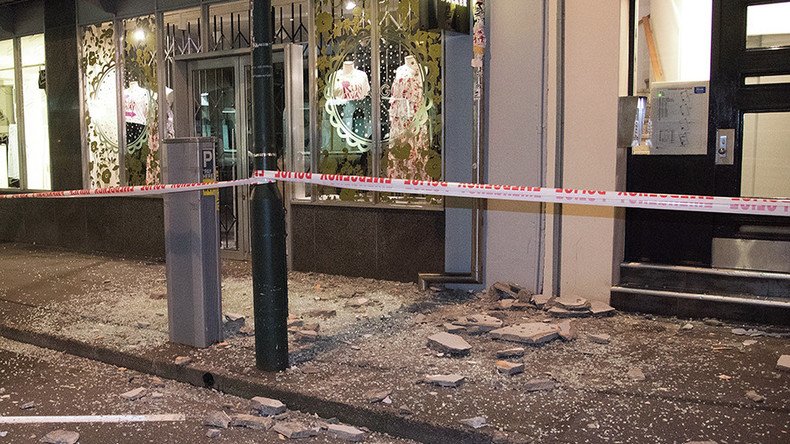 New Zealand authorities have issued a tsunami warning after a powerful earthquake hit northeast of Christchurch, the biggest city on South Island. At least two people have been confirmed dead in Kaikoura.
READ MORE: Destruction caused by New Zealand earthquake captured on camera (VIDEOS, PHOTOS)
The tremor, with a magnitude initially estimated at 7.4 before being scaled up to 7.8, had a depth of 23km, according to the US Geological Survey. New Zealand's Civil Defense puts the depth at 15km.
It was centered 46km from the town of Amberley with about 2,000 people, 70km from the town of Kaiapoi with 10,000 residents and 91km north-northeast of Christchurch.
"There have been several severe earthquakes in the Seddon and Kaikoura region. Strong earthquakes have been felt in Wellington. Early indications are that the quakes originated from the Hope Fault," NZ Ministry of Civil Defense and Emergency Management (MCDEM) said in a statement.
At least ten aftershocks with magnitudes from 4.9 to 6.2 have struck South Island of New Zealand, USGS reports - while the NZ Herald tweets of more than 45 follow-up quakes.
Civil Defense Minister Gerry Brownlee told a news conference that he received some reports about casualties from the Kaikoura area.
"There are some reports of casualties in the Kaikoura area but the extent of that is not yet reported," he said.
At least one person died after a property collapsed in the region of Kaikoura, NZ TV reported, citing police. According to some media reports, two people were injured in the same area.
New Zealand Prime Minister John Key later confirmed the deaths of two people as a result of the earthquake and said that a military helicopter had been sent to the Kaikoura region.
There are also reports that houses in Cheviot have been badly damaged.
The MCDEM issued a tsunami warning for the eastern coasts of North and South Islands, saying waves of 3-5 meters can be expected.
"New Zealanders should stay off the beaches, stay out of the water, and not go sightseeing. People are encouraged to keep themselves informed and follow the advice of their local civil defence groups as the situation develops around the country," the warning says.
Thousands of people fled their homes and moved to higher ground following the warning. Meanwhile, helicopters carrying medical and rescue personnel were sent to areas located near the epicenter of the quake.
"The first tsunami waves have arrived but it is too early to know what damage or casualties there may have been. Further waves should be expected and may be larger or more dangerous," the MCDEM said, commenting on initial tsunami reports.
WeatherWatch.co.nz reports that a "sizeable tsunami wave of around 2 meters" has been recorded in Kaikoura.
"Now much smaller, but still very dangerous, tsunami waves are showing up in [the cities of] Wellington, Castlepoint," the website added.
Chris Hill from Cheviot, which is located along the coast, said officials went door to door evacuating residents.
"Everyone seems OK here," he told RNZ. "There's a lot of debris in houses, but at this stage it doesn't look like anything too bad has happened."
In Wellington, 214km from the quake's epicenter, some windows and chimneys were smashed and the power was knocked out in several places, AP reported.
According to Wayne Timmo, a resident of the town of Hamilton, the quake felt like a "long slow, rolling or almost rotating motion."
"The water in the neighbor's swimming pool was left sloshing around for about a minute and people woken by the quake came out onto the street to talk about it," he told Stuff.co.nz news website.
"It really shook for a long time," Jo Davis from the town of Nelson also told the news outlet.
The quake damaged power lines in several neighborhoods and power may not be restored until morning.
Meanwhile, a storm is approaching the New Zealand regions worst hit by the earthquake. The Meteor Service issued a heavy rain warning for the North Nelson, Buller and Westland regions. The National Institute of Water and Atmospheric Research warned that the rains may cause flooding and hinder recovery efforts.
Back in 2011, Christchurch was struck by a 6.3-magnitude earthquake that killed at least 185 people and injured hundreds.
You can share this story on social media: