Former ambassador McFaul 'deliberately marred US-Russian relations' – Russian FM spokeswoman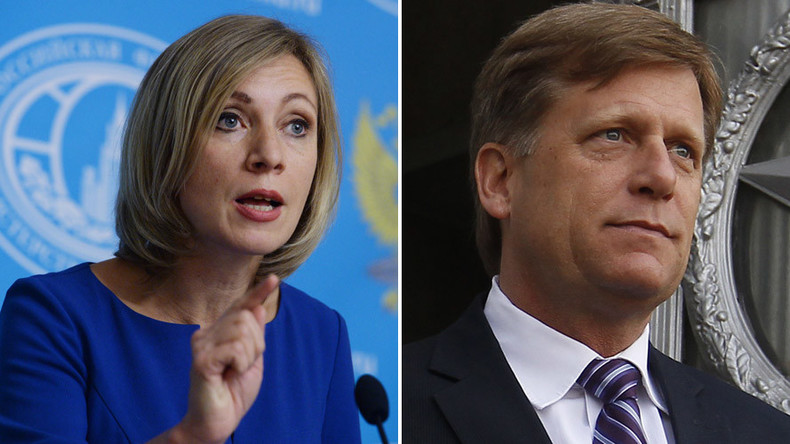 Former US ambassador to Russia, Michael McFaul "deliberately ruined relations" between Washington and Moscow, Russian Foreign Ministry spokeswoman Maria Zakharova said, commenting on why she thought the US diplomat was banned from traveling to Russia.
"Michael did his best to damage these bilateral relations," Zakharova told Russia's Rossiya 24 news channel, adding that the decision to include the former ambassador on Russia's retaliatory sanctions list had nothing to do with his "close affiliation with US President Barack Obama."
On Friday, McFaul tweeted that he was surprised to find out that he could not travel to Russia and claimed that it was his affiliation with Obama that had prompted his inclusion on the Russian sanctions list.
At the same time, he expressed hope that he would not be "on the Russia travel ban list forever" and added that he looked forward to the day that he could "lecture again at my alma mater, Moscow State University."
McFaul went on to say that he even supported the lifting of mutual sanctions imposed by the US and Russia "under the right conditions."
The Russian Foreign Ministry dismissed McFaul's claims later the same day and said that the former US ambassador was banned from traveling to Russia and included on the retaliatory sanctions list because he took an "active part in ruining bilateral relations [between the US and Russia] and persistently promoted the idea of exerting pressure on Moscow," TASS reported.
A source in the ministry also stressed that McFaul had been on the sanctions list for more than two years since 2014 and was well aware of it.
READ MORE: Russian diplomats harassed by US, not other way around – Moscow on Wash Post article

The US first introduced sanctions against Russia in 2014 over its reunification with Crimea and for Russia's alleged meddling in the Ukrainian conflict. The US move was then followed by similar measures taken by the EU.
The sanctions target Russia's financial, energy and defense sectors, along with a number of government officials, businessmen and public figures. Moscow responded by imposing an embargo on agricultural produce, food and raw materials from countries that joined in with anti-Russia sanctions.
Both sides have since repeatedly broadened and extended the sanctions. The EU formally extended economic restrictions against Russia on July 1 for another six months.