Robotic sentinels defend strategic missile site from saboteurs in Russian military trials (VIDEO)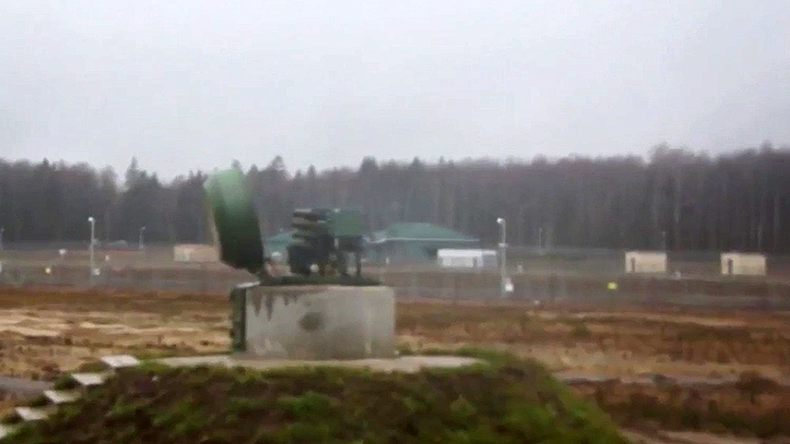 A unique unmanned robotic guardian has successfully passed Russian military trials. The system was developed to boost the security of stationary military sites and is set to be deployed to guard the underground silos of the Strategic Missile Forces (SMF).
"A state-of-the-art robotized guarding system for SMF stationary facilities has passed military tests in the Kozelsk Missile Formation [Kaluga Region, south of Moscow]," the Defense Ministry reported.
The stationary sentry robot is remotely guided and controlled by the operator. Its hardware features an unparalleled capacity to fend off potential attacks on strategic military sites, and missile launch silos in particular.
The remotely-controlled hardware is equipped with electro-optical and radar reconnaissance gadgets. The new system can fire bullets and grenades in both automatic and semi-automatic mode at targets 400 meters away.
"The system, if equipped with modern shooting and grenade launching systems … is capable of conducting aimed fire in a circular sector… at ranges of up to 400 meters," Russia's defense ministry said.
The military noted that the system did well in defending the silo launch site at the testing range from simulated attacks by "saboteurs".
The robotic system which has been tested and is now ready for action was engineered to make it ready for deployment in less than 30 seconds.
Besides the new robot trials, the drill also featured the Taifun-M, an armored reconnaissance vehicle developed specially for Russia's strategic missile forces.
"The system is designed for reconnaissance, the elimination of stationary and moving targets, fire support, patrols, and protection of important sites," the ministry noted.
The Taifun-M is designed to escort mobile intercontinental ballistic missiles such as the RT-24 Yars, otherwise known as the Topol-MR, in order to prevent enemy ambushes. It can also protect silo-based ICBM launch sites from advancing enemy troops.
The vehicle entered service with the Russian Army in 2013. In 2016, SMF received 14 new Taifun-M vehicles.
The vehicle, the military said, has a unique complex of surveillance resources, including an unmanned aerial vehicle, which allows Taifun-M to detect targets stationed up to 5km away.
You can share this story on social media: