Men in 'Iraqi forces uniforms' torture, execute villagers amid Mosul offensive – Amnesty Intl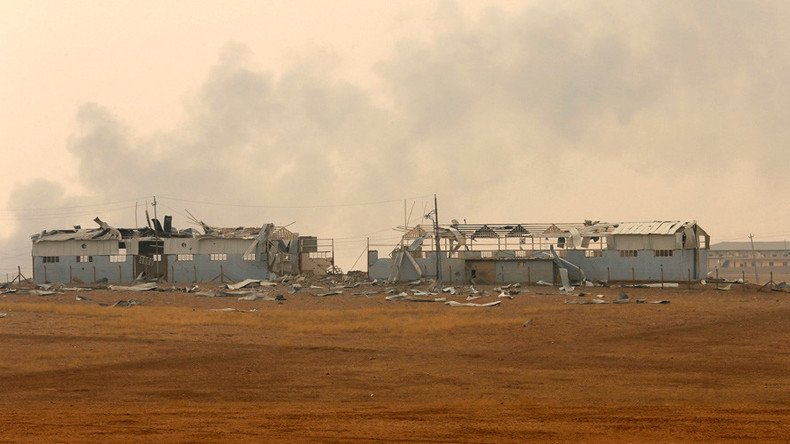 A number of unarmed people have been tortured, ill-treated and shot dead "execution-style" by fighters wearing Iraqi Federal Police uniforms in several villages surrounding the besieged city of Mosul, Amnesty International said in a new report.
"Men in Federal Police uniform have carried out multiple unlawful killings, apprehending and then deliberately killing in cold blood residents in villages south of Mosul. In some cases the residents were tortured before they were shot dead execution-style," said Lynn Maalouf, Deputy Director for Research at Amnesty International's Beirut Regional Office.
According to the rights group, its field researchers have visited several villages south and southwest of Mosul, where Iraqi forces, local militias, and the US-led coalition attempt to force the Islamic State (IS, formerly ISIS/ISIL) out of the city.
Evidence gathered in the field may indicate that up to six people were extrajudicially executed in late October, Amnesty International said in the report published Thursday.
In one chilling case that took place on October 21, a 16-year-old boy and around ten men handed themselves over to a small group of men wearing Iraqi Federal Police uniforms. The men waved a white cloth and lifted their shirts to show that they had no weapons and did not pose a threat.
After the captives were taken on foot to an empty desert area, fighters wearing the police uniforms beat them with cables and rifle butts, punched and kicked them, and then pulled their beards even setting one man's beard on fire, the rights group's report said.
Shortly afterwards, the men were forced to lie down on their stomachs and the armed fighters fired shots between their legs. They accused them of being Islamic State members.
Three men from the group – two of them identified as Ahmed Mahmoud Dakhil and Rashid Ali Khalaf – were then separated from the others. The uniformed men brutally beat them before shooting them dead, Amnesty alleged.
The Amnesty paper comes amid reports that Islamic State militants forced thousands of civilians to accompany them as they retreated from the town of Hammam al-Alil towards the Mosul airport. The terrorists ordered the local villagers to leave their homes, but Amnesty believes some younger men apparently managed to hide in unfinished or abandoned buildings.
One such civilian named Hussein Dakhil allegedly defied IS orders and was later found dead with two bullet wounds, to the chest and chin, shortly after government forces entered the area. He was blindfolded with his torso exposed, which may suggest that he was detained before being executed.
"Deliberately killing captives and other defenseless individuals is prohibited by international humanitarian law and is a war crime. Without effective measures to suppress and punish serious violations, there is a real risk that we could see war crimes of this kind repeated in other Iraqi villages and towns during the Mosul offensive," Maalouf said.
"The Iraqi authorities must immediately investigate these alarming reports of extrajudicial executions and torture. They must remove from active duty all individuals who are suspected of committing war crimes and other serious human rights violations, pending the outcome of judicial investigations."
Mosul, the IS stronghold in Iraq, is under siege by several forces, including the Iraqi Army, its allies from the Shiite militias, Kurdish militias, and a Turkish expeditionary force in Iraq, while the US provides air support for the joint offensive.
Earlier this week, a mass grave containing one hundred bodies was discovered inside a school south of the Islamic State-held city of Mosul, according to the Iraqi military. However, due to decaying, it was hard to establish whether these were soldiers or civilians.
The UN Office for the Coordination of Humanitarian Affairs said on Sunday that 34,000 Iraqis had left their homes since the start of the operation, adding that most of those people were put in temporary shelters. However, over one million civilians are believed to be trapped in Mosul as the terrorists kill anybody who attempts to flee.
You can share this story on social media: