Torture, summary killings: Amnesty slams Syrian armed groups for 'chilling' abuses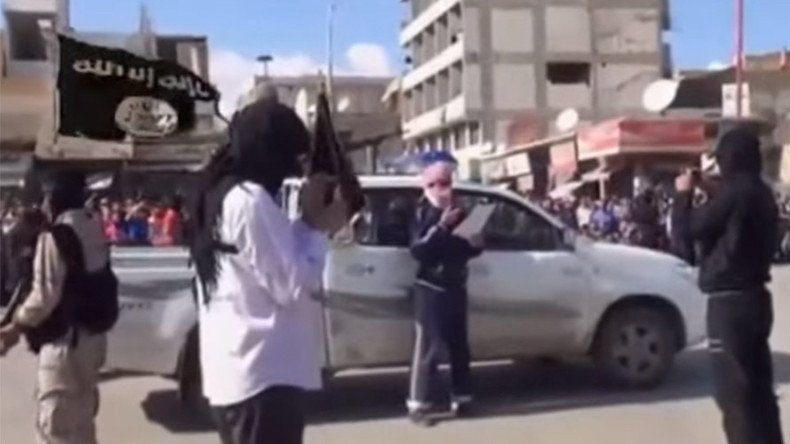 Jihadists operating in northern Syria are committing torture and summary killings of civilians in areas under their control, a new report by Amnesty International has revealed.
The probe, "Torture was my punishment: Abductions, torture and summary killings under armed group rule in Aleppo and Idlib, Syria"documents widespread abuse carried out by jihadists in the Aleppo and Idlib provinces of northern Syria. It's based on interviews with some 70 individuals living or working in the areas.
"This briefing exposes the distressing reality for civilians living under the control of some of the armed opposition groups in Aleppo, Idlib and surrounding areas. Many civilians live in constant fear of being abducted if they criticize the conduct of armed groups in power or fail to abide by the strict rules that some have imposed," Philip Luther, director of Amnesty International's Middle East and North Africa Program, said.
The 36-page brief accuses five jihadist groups of carrying out abductions and torturing their victims in "war crimes" that have been taking place since 2012. The NGO highlights atrocities committed by the Nour al-Dine Zinki Movement, al-Shamia Front and Division 16 alongside Jabhat al-Nusra and the Ahrar al-Sham Islamic Movement.
The report notes that Jabhat al-Nusra, the al-Shamia Front, and the Ahrar al-Sham Islamic Movement imposed Sharia law in the areas they control and appointed judges to mete out punishments. Under their administration, the jihadists went on to establish prosecution offices, in addition to police forces and detention centers.
"Some groups, such as Jabhat al-Nusra and the Ahrar al-Sham Islamic Movement, have applied a strict interpretation of Sharia and imposed punishments amounting to torture or other ill-treatment for perceived infractions,"Amnesty said in a press release.
Interviewing the surviving victims, the report notes 24 cases of abduction in the Aleppo and Idlib governorates between 2012 and 2016. Those abducted included civilians and children, in addition to religious minorities.
Amnesty also documented five torture cases carried out by al-Nusra and the Nour al-Dine Zinki Movement, in 2014 and 2015.
One of the victims is "Ibrahim" who was abducted by Jabhat al-Nusra in April 2015 in Aleppo. He was tortured for three days for organizing peaceful protests. He was later released and abandoned on the side of a road.
"I was taken to the torture room. They placed me in the shabeh position, hanging me from the ceiling from my wrists so that my toes were off the ground. Then they started beating me with cables all over my body… After the shabeh they used the dulab [tire] technique. They folded my body and forced me to go inside a tire and then they started beating me with wooden sticks," he said, according to the report.
Another victim, "Halim", was abducted by the Nour al-Dine Zinki Movement in July 2014. The humanitarian worker who was supervising a project in a hospital in Aleppo city was held for two months before being tortured into signing a "confession."
"When I refused to sign the confession paper the interrogator ordered the guard to torture me. The guard used the bisat al-rih [flying carpet] technique. He placed my hands above my head, and forced me to lift my legs in a perpendicular position. He then started beating me with cables on the soles of my feet. I couldn't bear the pain so I signed the paper," he said.
The report highlights "summary killings" of civilians often in front of crowds by Jabhat al-Nusra and the al-Shamia Front. Among those killed were reportedly a 17-year-old boy accused of being gay and a woman accused of adultery.
Summary killings have also been conducted against captured members of the Syrian armed forces and members of the pro-government militias, according Amnesty's findings.
"The deliberate killing of people held in captivity is prohibited by international humanitarian law and amounts to a war crime," the NGO said.
"Passing sentences and carrying out summary killings without a judgment from a regularly constituted court with full judicial guarantees is a serious violation of international law and amounts to a war crime," Luther said.
ISIS kills 400, mostly women & children, in Palmyra – Syrian state TV

The most recent case of summary killings was recorded outside the city of Palmyra in April, where the Syrian Army unearthed a mass grave consisting of at least 40 bodies, many of them women and children. Last May, Syrian state TV also reported the terror group had killed more than 400 local Palmyra residents, among them public servants, women and children.
The Syrian war has "endured inhumane suffering," President Bashar Assad told Sputnik news agency in April, adding he would not wish it on any other state.
Over this time, his country has faced "terrorist aggression, accompanied by atrocities unprecedented in recent decades, and maybe even in the past centuries," President Assad said.
You can share this story on social media: