Florence v McDonald's: Petition supporting Italian city reaches 25k signatures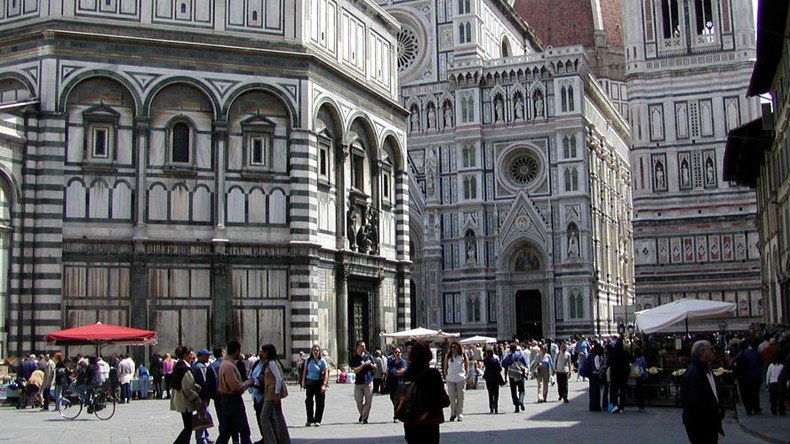 More than 25,000 people have signed a petition urging the Italian government and EU Commission to protect Florence against a $20 million lawsuit filed by McDonald's. It comes after the city rejected the chain's request to open a store on an iconic square.
"Let's protect Florence from the golden arches and their insatiable appetite," the petition states, urging Prime Minister Matteo Renzi and EU Commission President Jean-Claude Juncker to help the historic Italian city in its fight.
The petition was set up by French citizen Yann Web, who says it's unfair for large multinational companies to take legal action against regions which are trying to protect their "culinary identity, values, and heritage."

"We, European citizens, support the courageous city of Florence and its mayor Dario Nardella in this fight," the petition states. "Let's protect the heritage of the historic center of that magnificent city, Florence."
The lawsuit was filed last week, after Florence blocked a request from McDonald's to open a location on the city's iconic Piazza del Duomo, a UNESCO World Heritage Site.
McDonald's has accused the city's mayor, Dario Nardella, of backtracking on his original decision, causing the fast food giant to lose money after it made major changes to its business plan to fit in with local regulations.
Nardella rejected McDonald's request in June. That decision was later confirmed by a technical panel in charge of preserving Florence's heritage.
The mayor has told the city council that McDonald's "has the right to submit an application, because this is permitted under the law, but we also have the right to say no."
There are three other McDonald's locations in Florence, located just a short walk from Piazza del Duomo.
You can share this story on social media: