Absentee teachers, students in Afghan schools despite $868mn US investment – watchdog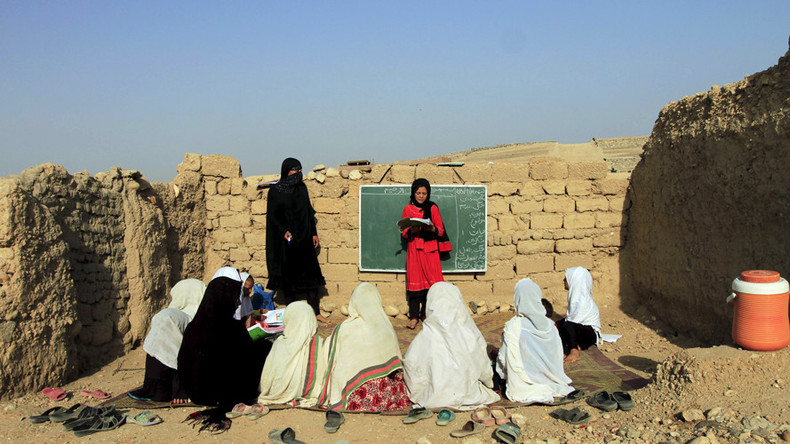 The US has so far contributed around $868 million to education programs in Afghanistan, but that investment is being met with no-show teachers, small numbers of students, and a lack of basic necessities, according to a report by an independent watchdog.
The document, released Thursday by the Special Inspector General for Afghanistan Reconstruction (SIGAR), John Sopko, includes detailed findings of visits to 25 schools in Herat province in the country's west.
All of the schools visited were either built or rehabilitated using taxpayer money provided by the US Agency for International Development (USAID). Four were built new, and 21 were reconstructed, according to the agency.
Addressing the findings, the report states that SIGAR's visits "indicated that there may be problems with student and teacher absenteeism at many of the schools," warranting further investigation by the Afghan government.
Although officials reported an average enrollment of 2,639 students at each of the schools, an average of 561 students was observed at each site – just 23 percent of the reported numbers.
In one instance, an official at a school in Herat City stated that 1,287 students attended on a normal day. However, only nine students were present during SIGAR's visit to the site. Another school was closed, despite the visit taking place at 1pm on a Thursday.
The report also states that several sites "lack basic needs including electricity and clean water, and have structural deficiencies that are affecting the delivery of education." Less than half of the schools were found to have reliable electricity, and two sites lacked access to clean water.
"Additionally, we found schools that had structural and utility deficiencies that could endanger students, teachers, and other occupants," says the report, which includes pictures of exposed wires and damaged electrical outlets.
It comes despite $868 million poured into Afghanistan's education system by the US over the course of 15 years.
"Given that USAID has spent millions of dollars on the construction and rehabilitation of Afghan schools, and continues to spend millions of dollars on teacher training and salaries…the agency has a clear interest in ensuring that the improvements it reports in the Afghan education sector are based on actual attendance, rather than on potentially inflated figures," the report states.
For its part, USAID has said stressed that it transferred the 25 schools to the Afghan Ministry of Education by 2006, and that "a single 1-2 hour site visit during only one of two potentially three shifts during a school day cannot substantiate claims of low attendance."
The report is the first in a series which will discuss SIGAR's findings from visits to schools across the country.