Slavic Brotherhood 2016: Russian, Serbian & Belarusian troops hold anti-terrorist drills (VIDEO)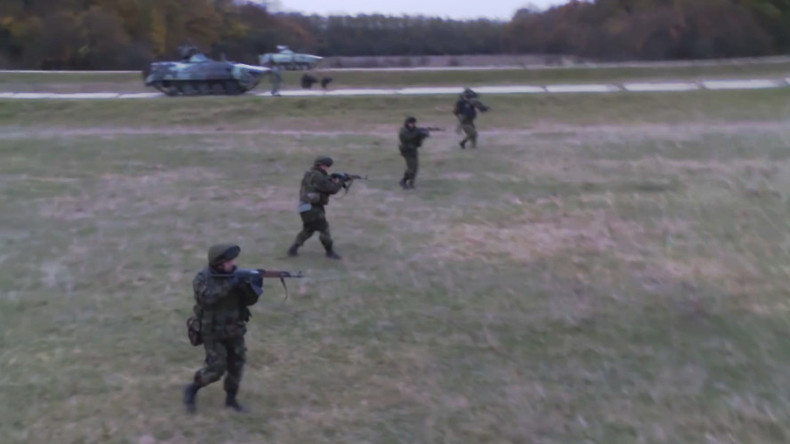 Russian, Serbian and Belarusian troops have held joint Slavic Brotherhood 2016 exercises outside Belgrade, working on improving cooperation in anti-terrorist missions across borders.
The active phase of the drills, which began on two ranges in the Belgrade region on Thursday, will conclude on November 9, but the Russian military will remain in Serbia for six more days for analysis.
Around 250 Russian troops, including Special Forces and paratroopers, as well as 50 Belarusian servicemen are taking part in the exercise, Russia's Defense Ministry said.
According to Serbian Defense Ministry, the home country is represented by 450 troops in the exercises.
"The aim of the drills is to improve operational capabilities for resolving tactical and fire tasks when carrying out anti-terrorist operations in a multinational environment," the Serbian side said.
The troops are practicing parachute landings, assaults on the bases of simulated terrorists, marching, live firing, reconnaissance with the use on unmanned aerial vehicles, the evacuation of the wounded, bomb disposal and other activities.
The exercises are the latest cooperation between Russian and Serb paratroopers, which began with SREM 2014 drills in Serbia.
It's the second edition of the Slavic Brotherhood war games that were held near Russia's Novorossiysk last year.
READ MORE: NATO, Russia hold Balkan drills amid growing Eastern European tensions
The Slavic Brotherhood-2015 joint exercises took place in Russia. In 2014, the Serbian Special Brigade special operations unit and Russian troops took part in the SREM-2014 drills.