RT doc film 'We love Gaza' highly commended at intl AIB Awards
Published time: 5 Nov, 2016 16:56
Edited time: 7 Nov, 2016 13:00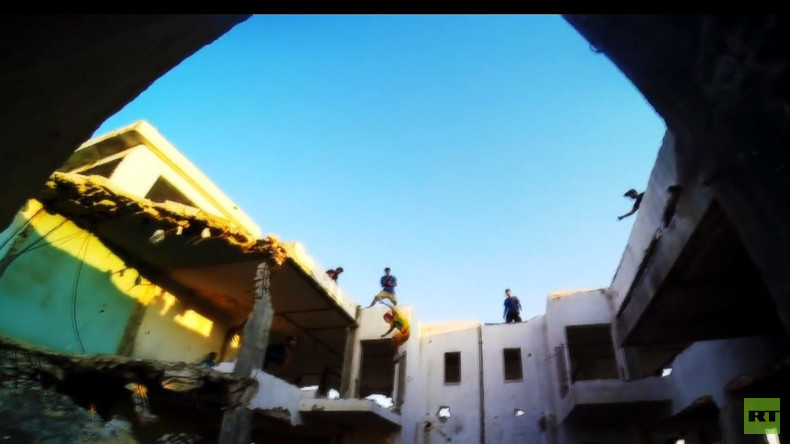 RT's documentary film, 'We Love Gaza,' has received high commendations at the AIB Awards in the International Current Affairs category. The film tells the story of two rival parkour teams finding solace in the extremely dangerous sport amid war.
The RTD branch of the Russian news network received a commendation for the first time, outrunning BBC and Australia's SBS Television.
"The festival jury had high praise for the story in 'We Love Gaza,' as well as the camera work," RTD chief Ekaterina Yakovleva said. "I would like to thank everyone who took part in the production of this film."
The documentary allows the Israel-Palestinian conflict to briefly take a back seat, as it explores the reality of life in the Gaza strip by shifting its gaze to two rival teams of free-runners from north and south Gaza, who spend their days training for meets amid ruins.
The sport, also known as parkour, is particularly dangerous in debris-strewn Gaza, where shards of brick and rusty metal stick out at every turn amid the bullet-ridden walls of what were once residential blocks.
However, the young men say that, as Palestinians, they've become accustomed to the danger. They tell their stories with a gleam of excitement in their eyes, as though the conflict never happened, and their biggest concern is beating the other team. It becomes clear quickly, however, that the misery of seeing their home turn into an abandoned urban jungle was what rendered them so impervious to fear, as they scale the dilapidated ruins of their city.
Haunting sunsets and beautiful camera angles abound in this film, which strays into uncharted territory.
The film's crew included correspondent Vyacheslav Guz, director Aleksandr Panov and director of photography Stanislav Guryanov.
This is the 12th time an award is being given out by the Association for International Broadcasting, a non-profit independent organization founded in 1993. Leading international TV and radio networks count themselves among its members. There are 17 award categories.
RT has previously been nominated for its coverage of the Maidan uprising, the NATO bombing of Yugoslavia, and the plight of Guantanamo Bay prisoners, among other special projects.