ISIS kills 400+ deserters & civilians around Mosul – UN
Published time: 4 Nov, 2016 16:44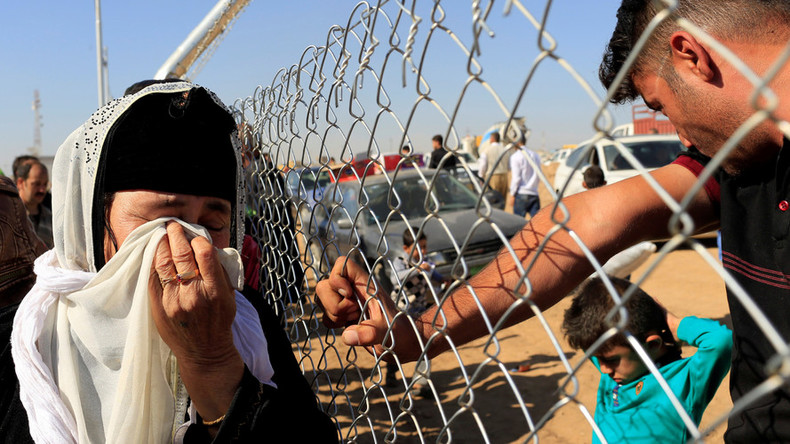 The Islamic State terrorist group has killed over 400 people around Mosul and transported many others into the city to use as human shield, a UN human rights spokesperson said.
Among those killed are some 50 fighters who deserted during the battle for the Kokjali neighborhood east of Mosul a few days ago, Ravina Shamdasani said on Friday. Before withdrawing, the militants executed 180 former Iraqi government officials, she said.
The terrorists also executed some 200 other civilians inside the city, Shamdasani added.
The spokesperson said Islamic State (IS, formerly ISIS/ISIL) has transported 1,600 people from the town of Hammam al-Alil to Tal Afar, possibly for use as human shields against airstrikes. They also took 150 families from Hammam al-Alil to Mosul on Wednesday.
The UN official said IS ordered Hammam al-Alil residents to hand over boys above age nine, indicating a recruitment drive for child soldiers.
In mid-October, the Iraqi army and other opponents of IS launched an operation to retake Mosul, the terrorist's stronghold in Iraq. The operation is yet to enter the urban warfare phase.
The UN-led coalition is providing air support in Mosul, and the UN has cited reports of civilians being killed in several airstrikes, one of which targeted the al Qudus neighborhood in eastern Mosul on Wednesday, killing four women and injured 17 other civilians.
The US insists that it is doing its best to avoid civilian deaths and seriously investigates all reports of such casualties.
However, the situation on the ground makes it difficult to either investigate alleged civilian deaths or independently confirm the Pentagon conducting such investigations.