US jets strike residential areas in Mosul - Russian military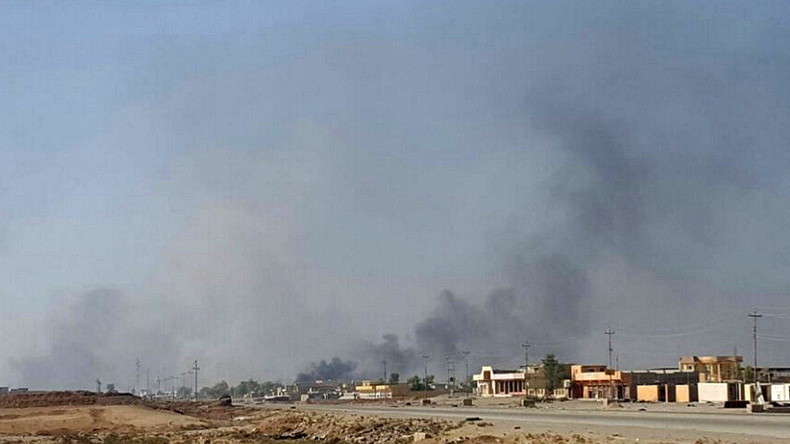 The US-led coalition supporting the siege of Mosul has hit residential areas in and around the Iraqi city, the Russian military reported.
"The US is continuing to carry out airstrikes on residential areas in Mosul and towns in the Nineveh Governorate," Rudskoy said.
READ MORE: US double standards: '1mn people of Mosul have no chance of escape, no humanitarian truce'
"On October 31, the Bazvaia and Gogieli neighborhoods located 14 kilometers and 19 kilometers east of Mosul were subjected to massive bombardment by coalition aircraft," General Lieutenant Sergey Rudskoy, head of operations for Russia's General Staff, told journalists on Thursday.
He added that, earlier, on October 26, the coalition had attacked residential areas in Hamam el-Elil, damaging a local mosque and causing civilian casualties.
On October 24, a coalition strike in the town of Tell-Kaif, 14 kilometers north of Mosul, hit an area right next to a school building, which was damaged by the blast and debris, the general said, while showing the journalists satellite images of the area taken before and after the attack.
RT video agency Ruptly shot footage earlier that shows the aftermath of an alleged coalition airstrike on the village of Fadhiliya near Mosul, in which eight members of the same family were killed, according to witnesses. The US confirmed that it had carried out air raids in the area of Fadhiliya on October 22, and promised to carry out an investigation.
READ MORE: Storming Mosul's residential areas will likely result in mass casualties, Russian MoD warns

Mosul, the Islamic State terrorist group's stronghold in Iraq, is under siege by several forces, including the Iraqi army, its allies from the Shiite militias, Kurdish militias, and a Turkish expeditionary force in Iraq. The US-led coalition is providing air support for the joint operation.
While the offensive has not yet entered the intensive urban warfare phase, humanitarian organizations have voiced concern that the hostilities will take a significant toll on the civilian population of the city, which is the second most populous in Iraq.