'Not easy to be Arab in Molenbeek': HRW slams Belgium counter-terrorist raids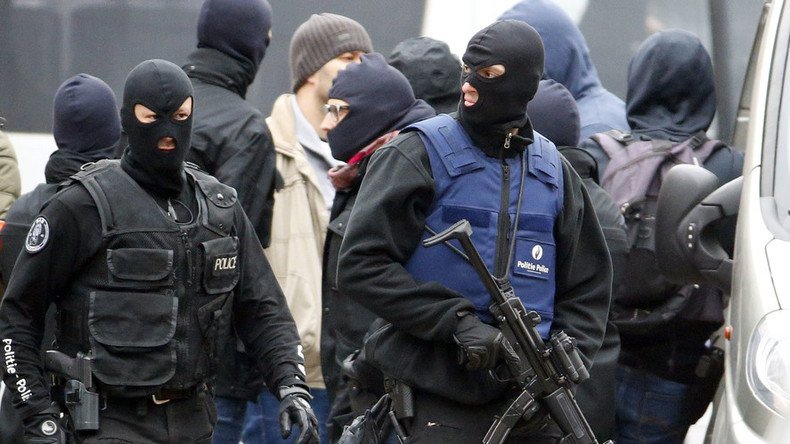 Human Rights Watch has criticized Belgium's "heavy-handed" counter-terrorism tactics, citing terrorist suspects who claimed they were beaten and even called "dirty Arabs" and "dirty terrorists" by officers.
"[Belgium's] law and policy responses have been undermined by their overbroad and sometimes abusive nature," Letta Tayler, senior terrorism researcher at Human Rights Watch and the report's author, said.
According to Tayler, "heavy-handed police raids risk alienating communities whose cooperation can help address the threat."
HRW has interviewed 33 people that claim they were physically or verbally abused in Belgian prisons. According to witnesses and lawyers, police used such words as "dirty Arab" or "dirty terrorist," while addressing the suspects.
In 10 cases, police beat suspects and slammed them against cars. Almost all were Muslims from north Africa, but only one had terrorism charges brought against him.
"We are attacked by the Islamic State, which considers us disbelievers when we have nothing to do with them… And we are attacked by the state, which says, 'You are involved with the Islamic State [formerly ISIS/ISIL],'" said Omar, one of the suspects, who claimed he was beaten by police, but then released.
READ MORE: Belgian police missed 13 chances to catch Paris attackers before tragedy – report
According to Omar, "These days it is not easy to be Arab, Muslim and living in Molenbeek."
"I am certain that if I were blond with blue eyes and a Gucci bag, they would have treated me in a different manner," added Zouzou Ben Chikha, who accuses police of insulting him and making him remove his shoes.
Five suspects and one suspect's lawyer said that federal police "broke down doors, shouted ethnic or religious slurs, or roughly restrained them," even though they were not resisting arrest. "Four cases included allegations of police beatings," HRW said.
READ MORE: Belgium arrests 'watch list' Frenchman, finds photos of Brussels airport taken before March attack
"The lawyer alleged that the police struck his client in the head with an assault rifle while he was feeding his 2-year-old son a bottle of milk, knocking the man unconscious and sending the child hurtling toward a wall," the group said.
HRW's analysis claims that at least six of Belgium's newly adopted anti-terrorist laws "threaten fundamental rights."
.@lettatayler "#Belgium's society mature and resilient enough, we are confident the gov't will find alternatives to current militarization"

— Claudio Francavilla (@ClaFrancavilla) November 4, 2016
In 2015 Belgian authorities applied harsh counter-terrorism measures to those convicted of terrorism-related charged. Some prisoners have been held in solitary confinement "for up to 23 hours a day," while others were in isolation for 10 months. One prisoner even tried to commit suicide, the report says.
"Prolonged solitary confinement is cruel, inhuman, and degrading treatment, and may amount to torture," HRW says in a press release of the report.
The Belgian authorities have also suspended the passports of some 250 people suspected of terrorism, a measure "which lacks the important protection of prior judicial review," HRW adds.
The group slammed the "abusive counterterrorism operations" conducted by Belgian police as well, while noting that, since the Paris attacks of November 2015, Belgium has "declined to provide data on charges and convictions."
"Governments have a responsibility to protect people from attack and to hold those responsible to account," Tayler said. "But disproportionate responses weaken the rule of law, fuel distrust of the authorities in Muslim communities, and divide society when it needs to unite against groups like ISIS."
Brussels has been on high alert since twin suicide bombings hit Zaventem Airport and the Maelbeek metro station on March 22, killing 32 people and injuring dozens more. The metro station is near the buildings housing the EU Commission and the Council of the European Union, as well as NATO's headquarters.
Numerous raids have been conducted in the mainly Muslim Molenbeek area of Brussels, which is often referred to as an "Islamist hotspot." Many of the suspects involved in the Paris attacks grew up and lived in Molenbeek, including terrorist mastermind Abdelhamid Abaaoud, the Abdeslam brothers, and Mohamed Abrini – who was also involved in the Brussels attacks.
You can share this story on social media: