'Homework is detrimental': Spanish parents go on strike to save children's free time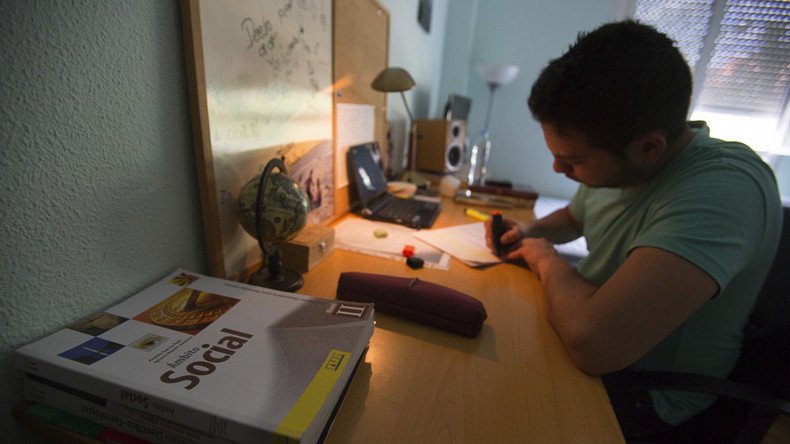 There's nothing new about pupils complaining about their homework, but in Spain they've now been joined by parents who are ready to go on strike for their kids to be left alone on weekends.
The Spanish Confederation of Associations of Mothers and Fathers of Students (CEAPA) has called on parents whose children attend state schools to boycott weekend homework for the whole month of November.
There's "absolute certainty that homework is detrimental" to children as it hampers their extra-curricular development, Jose Luis Pazos, CEAPA president, told AFP.
"We've lost a bit of common sense in this country when it comes to talking about education and we've got a system in which boys' and girls' free time has disappeared," he said.
Spanish 15-year-olds have 6.5 hours of homework a week, a 2012 report by Organization for Economic Cooperation and Development said, putting the country in fifth place after Russia, Italy, Ireland and Poland.
Too much homework has turned the Spanish parents into "second teachers," Pazos said, adding that such a situation was "unacceptable."
The huge workload doesn't mean that Spanish students perform better than their counterparts in other countries, as they're traditionally given low scores in math, reading and science by Program for International Student Assessment (PISA).
Meanwhile, Finland and South Korea, which have the top performing students, according to PISA, had less than three hours of homework weekly.
The CEAPA leader said education in Spain was too traditional and mainly relies on memorizing work.
"Society has changed deeply, but the environment in the classroom hasn't," he said.
In the modern information society "what we have to teach children, isn't to memorize everything, but how to manage information, to be critical, to select what is worth it and what isn't," Pazos added.
CEAPA, which covers some 12,000 state schools across the country, is providing the parents who would support the strike with three letters to be handed to their children' schools.
Two of the letters are addressed to the headmaster and teachers, asking them to refrain from assigning homework for weekends.
The third explains that the student hasn't prepared his homework because of the "constitutional right that families have to make what they consider to be the best decisions for family life, which is a private matter and one on which schools should not intrude."
A spokesman for the education department of Madrid told the Guardian that it was for individual schools, but not regional governments, to decide whether to assign homework or not.
"They're the ones who know best what the need is in each case," the spokesman said, adding that authorities still "urge that schools try to make sure that different teachers and departments coordinate homework so that they're not all giving a lot of homework at the same time."
You can share this story on social media: