ISIS leader threatens attacks in Turkey & Saudi Arabia, confident Mosul will not fall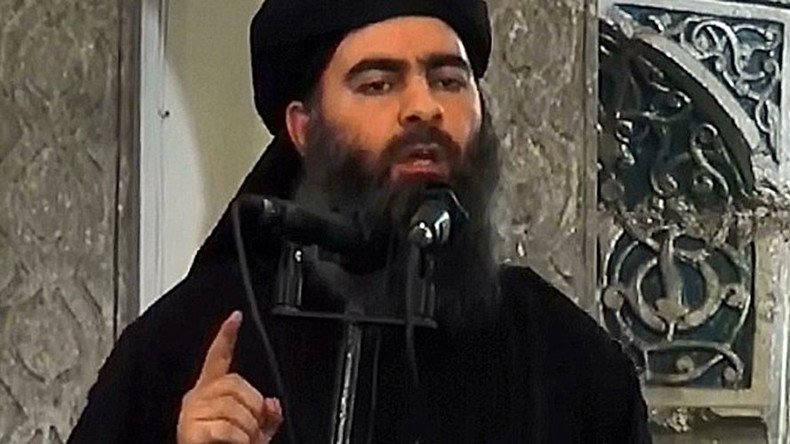 Islamic State leader Abu Bakr al-Baghdadi, reportedly hiding out in the besieged city of Mosul, released his first message since 2015, urging followers to wage all-out war and take the fighting into Saudi Arabia and Turkey.
In the recorded message, the Islamic State (IS, previously ISIS/ISIL) chief also expressed confidence that the terrorist group would ultimately be victorious in fending off the Iraqi forces and allied militias trying to retake Mosul, where he declared the 'caliphate' two years ago.
The 31-minute-long recording, the authenticity of which could not be verified, was released by Islamic State supporters on Thursday, according to Reuters.
READ MORE: ISIS boss al-Baghdadi 'trapped' in Mosul as Iraqi army gears up for takeover – reports
In the message, which does not specifically refer to Mosul, al-Baghdadi threatens unbelievers with suicide attacks and rivers of blood.
Al-Baghdadi, whose real name is Ibrahim al-Samarrai, said that the terror group's militants will "unleash the fire of their anger" on Ankara, apparently referring to Turkish troops stationed at a base outside Mosul, as well as President Recep Tayyip Erdogan's diehard rhetoric, which has fanned fears that Turkey plans to unilaterally intervene in Iraq.
The IS leader also threatened to carry out multiple attacks in Saudi Arabia, targeting the Islamic kingdom's security services, government officials and, notably, members of Al Saud royal family, while accusing them of siding with countries involved in hostilities in Iraq and Syria.
The battle for Mosul, a city that still has a population of around 1.5 million people, was launched on October 17 with an Iraqi army offensive supported by US-led coalition airstrikes and ground support.
As the troops advance on Islamic State's Iraq stronghold, concerns about the safety of civilians living in the city's densely populated urban areas have been rising. Russia's Defense Ministry noted on Tuesday that the absence of escape routes for civilians may result in mass casualties as the battle continues.
US-led coalition air raids on IS targets have already resulted in collateral damage. According to Russia's estimates, 60 civilians were killed and up to 200 injured during the first days of coalition bombings on residential areas in Mosul.
In the meantime, some top-tier Syrian officials believe the US may allow Islamic State's jihadists to freely leave the city. In late October, President Bashar Assad's media adviser, Dr. Bouthaina Shaaban, told RT: "The way they encircle Mosul shows they would like these terrorists to move into to Syria.
"They're navigating terrorism from one place to another, limiting terrorism in one place, directing it to another place. That's the absolute truth of what is happening in our region," she asserted.
You can share this story on social media: