Beijing rebukes EU commissioner for 'slant eyes' comment, gets no apology
Published time: 2 Nov, 2016 17:30
Edited time: 5 Nov, 2016 13:43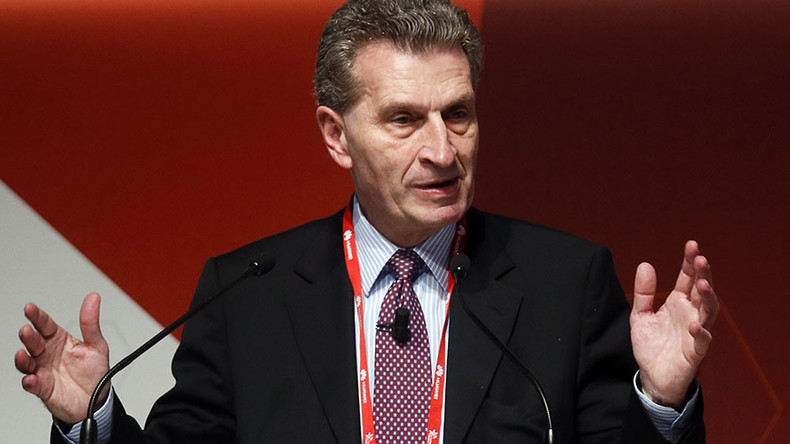 Beijing has expressed outrage over EU commissioner Gunther Oettinger's use of terms like "slant eyes" in describing a Chinese delegation, but the German politician doesn't think there's anything to apologize for.
A video covertly taped by a Brussels journalist and leaked by anonymous YouTuber Sebas Travelling shows Oettinger referring to Chinese as "slant eyes" and "chiselers." Oettinger, who was promoted to the high post of EU budget commissioner last week, also made fun of how the Chinese allegedly have their "hair combed from left to right with shoe polish."
The newly minted commissioner's bizarre commentary prompted a sharp backlash from Beijing.
"The relevant remarks reveal a baffling sense of superiority entrenched in some Western politicians," Chinese Foreign Ministry spokeswoman Hua Chunying said, according to AFP. "We hope that they can learn how to view themselves and others objectively and respect and treat others as equals."
Nothing resembling an apology emerged from the EU minister, however. In a Die Welt interview on Saturday, he described his words as "a somewhat sloppy expression that was not meant in any way disrespectfully towards China."
On Wednesday, James Chrisp, a EurActiv.com news editor, asked Oettinger if he would perhaps consider expanding his words into an apology, but Oettinger would not condemn his comments, insisting that "Everything has been said. There is nothing to apologize for."
Chrisp tweeted Oettinger's responses, one of which blamed EurActiv and other media outlets for blowing the entire scandal out of proportion.
ME: but the eng & de press have written about it. It is a scandal.
Oettinger: its you (the press) its EurActiv that has made the scandal

— James Crisp (@JamesCrisp6) 2 ноября 2016 г.
Then, #OettiGate began trending as a hashtag.
The conversation that the EurActiv journalist had been having with Oettinger on the street ended abruptly when the budget minister got into his car and drove off to the airport.
The scandal has been making waves in German political circles. Angela Merkel is said to have argued for giving Oettinger another chance, but the country's headlines have already begun calling him "racist and homophobic," and the head of the leftist Die Linke party, Dietmar Bartsch, has called on the German chancellor to "withdraw this man from Brussels."