Turkey will be 'dismantled' if invades Iraq, Baghdad warns over Ankara build-up at border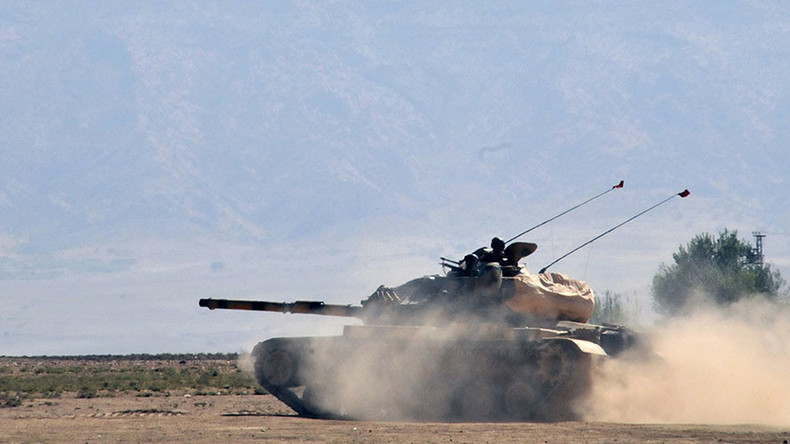 If Ankara attempts to invade Iraq, it will be considered an enemy and will be "dismantled," Iraq's prime minister said in response to the Turkish military deploying heavy armor, including tanks, to the border near Iraq.
"The invasion of Iraq will lead to Turkey being dismantled," Haider al-Abadi said on Tuesday at a news conference, as cited by AFP.
According to al-Abadi, Baghdad doesn't "want war with Turkey, and we do not want a confrontation with Turkey."
Read more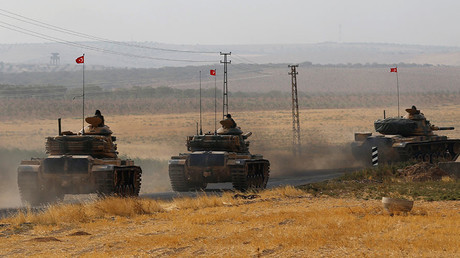 "But if a confrontation happens, we are ready for it. We will consider [Turkey] an enemy and we will deal with it as an enemy," Abadi said.
Abadi's statement was harshly criticized by Turkish Foreign Minister Mevlut Cavusoglu, who said that Abadi can't cope "against terrorist organizations, but trying to bully and [be] rhetorical."
"If you [Iraq] have the power, why did you leave Mosul to terrorist organizations in the first place?" the minister asked. "Why has the PKK [Kurdistan Workers Party] been invading your lands for years?" he asked, as cited by Anadolu Agency.
Turkey's deputy prime minister said Abadi had gone too far with his statement. The Turkish deployment was a precaution rather than a threat, he explained.
"I regard Abadi's words as overstepping the mark. Abadi must make statements lowering the tension," Numan Kurtulmus told the broadcaster NTV, as cited by Reuters.
"We are obliged to take measures to guard against threats from across Turkey's border," he added. "It is more of a precaution than a threat."
On Tuesday, the Turkish Defense Ministry said that Ankara is deploying heavy armor to the border near the town of Silopi, close to the border with Iraq. Defense Minister Fikri Isik said the Turkish military will tackle a potential "increase" of threats.
Read more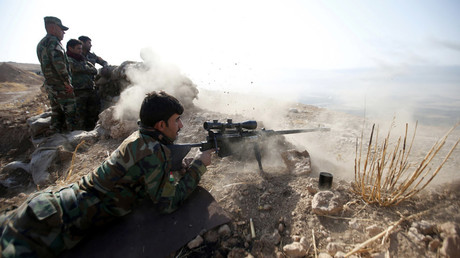 "We will not allow the threat to Turkey to increase," Isik told broadcaster A Haber as cited by Reuters. Ankara has "no obligation" to wait until the PKK fighters, considered terrorists by Turkey, will seize territories in Iraq's Sinjar region, around 115km south of Silopi, Isik added.
In October, Turkish tanks and artillery aided the advance of Kurdish Peshmerga fighters against Islamic State jihadists near the stronghold of Mosul. That came despite Baghdad's repeated protests against Turkish military presence on its soil.
Abadi then said that "this is something the Iraqis will handle and the Iraqis will liberate Mosul and the rest of the territories."
Turkey officially maintains some 25 tanks there as well as 150 troops and a staff of "military advisers" estimated to reach some 2,000. Abadi called the presence a violation of sovereignty and said Turkish "inside Iraqi territories has no justification."