'We destroy & vandalize things out of frustration': Migrant in Sweden admits to setting cars on fire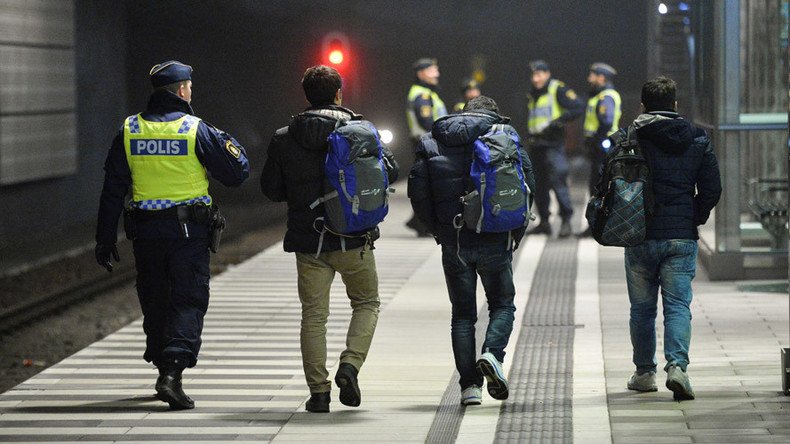 A refugee in Sweden has said it is "clear as hell" that young people like him are behind a spate of car arsons across the European country, blaming it on the failings of the Swedish society.
In a letter penned to the Swedish VLT newspaper, the unnamed young man blamed discrimination from those in power for making him and others like him feel unwelcome in the country.
The man, who claimed to be from a residential area of Skallberget in the city of Vasteras in central Sweden, said he arrived to the European country "in the early age." Suggesting that he himself has never been convicted of anything, he said that he was yet "one of those who have been most badly treated."
Police have "abused their power" the way they treated him, he claimed, adding that such humiliation made him "really depressed."
"Already at an early age I became a man who was treated differently. Sometimes it was because of ethnicity, sometimes because we were at a certain place, and sometimes just because those very people with the power messed with us," he wrote, adding: "So many times I had been propped up against the wall and strip-searched in front of my loved ones."
But it wasn't just the law enforcement who allegedly made his life miserable, he said.
"The older adults in the area look at us as if we are animals or abnormal," the man wrote in his letter, adding that he felt the lack of resources for a normal living in his area. While other neighborhoods had cafes and recreation centers, his local sports ground did not even have lighting, he claimed. "The semi-broken football pitch has actually been unplayable for over two years."
READ MORE: 'No way back, Sweden will never be what it was': TV ad urges Swedes to 'integrate' with migrants
Together, these factors create a sense of hopelessness and frustration, causing young people from such neighborhoods to lash out, particularly by setting cars on fire. The acts of arson, according to the writer, are cries for help. "It was a way to get out the anger, but also [a cry for] attention, a way to try to get those around us to react and listen to us!"
The letter's author suggested "it is cheaper to buy and create some more positive things" in his neighborhood than spent the money "on insurance" and cover the costs for the fire department.
READ MORE: Sweden increases funding for refugee integration, but it may not be enough
"In short, it is clear as hell that we take out our frustration by destroying and vandalizing when we are short of other activities here," he concluded.
The letter was apparently written in response to a wave of arson attacks on cars that has hit the European country this year. Mostly centered around Stockholm and Malmo, some 2,000 vehicles have been set on fire between January and July, according to the Swedish National Council for Crime Prevention.
Despite being a relatively low-crime country, there have been alarming reports of over fifty so-called "no-go zones" across Sweden where crime rates are high and police officers are at risk of attack.



You can share this story on social media: