French Army releases night video of its artillery pounding ISIS positions in Iraq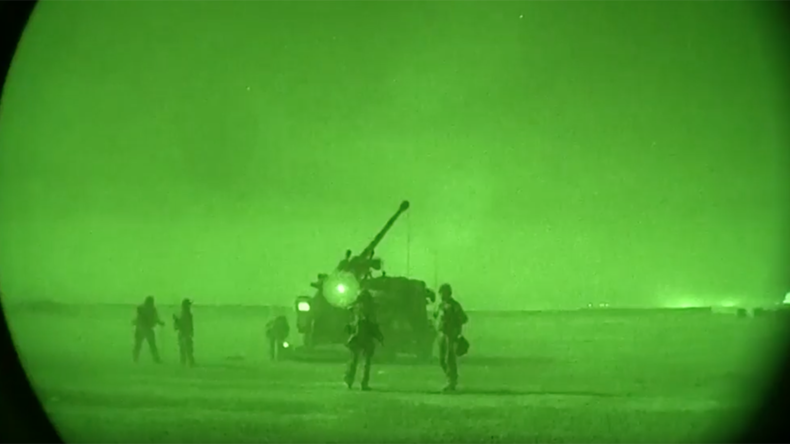 The French Army has released a video of its howitzers firing on Islamic State positions in Iraq. Artillery is part of a taskforce backing Iraqi troops in their advance against the jihadists.
The night footage posted on the official YouTube channel of the French Armed Forces shows Caesar howitzers as they "support Iraqi forces," a description says. Caesar is a French self-propelled 155mm artillery system installed on a 6X6 or a 10 chassis truck.
"The goal is to deliver the fire support in the shortest possible time, between five and 10 minutes after the firing order is sent to the battery. We assure the permanence of support to Iraqi troops 24 hours," a captain named Alexander (France does not disclose the full names of its soldiers for security reasons), is being quoted by AFP.
In early September, France deployed over a hundred soldiers as part of its Wagram Task force to Iraq. The group is compiled out of various units including four Caesar artillery systems. The contingent is now engaged in aiding local forces in re-taking Iraq's second-largest city of Mosul from Islamic State (IS, formerly ISIS/ISIL), AFP reports.
Around 30,000 Iraqi soldiers and militias, backed by the US-led international coalition jets, of which France is a part, are trying to force the jihadists out of the city since October 17. Paris has also dispatched its aircraft carrier 'Charles de Gaulle' to aid the joint mission against IS-fighters earlier this year.
A French Colonel named Benedict said he is acting cautiously due to "undefined" frontlines and close enemy contact in the fight for Mosul.
"But we have a great gun which combines power, firing range and accuracy, which is important when [the fight] is in the midst of the people. It is the brutality combined with precision," the officer said as quoted by the AFP. According to Benedict, some 35 "missions" by the Caesar units were carried out last week alone.
In early October, reports by various news outlets said two French special operators from the Task Force Hydra were injured in a IS drone attack near the Iraqi city of Erbil. Two Kurdish fighters were also said to have been killed in the assault.
France has also been involved in providing support to the US-led anti-terrorism coalition in Syria. In June, the French Defense Ministry announced it had deployed Special Forces on the ground in northern Syria to advise rebels and help them fight IS.
You can share this story on social media: