College in southern India offers gold coins for 'killing maximum number of stray dogs'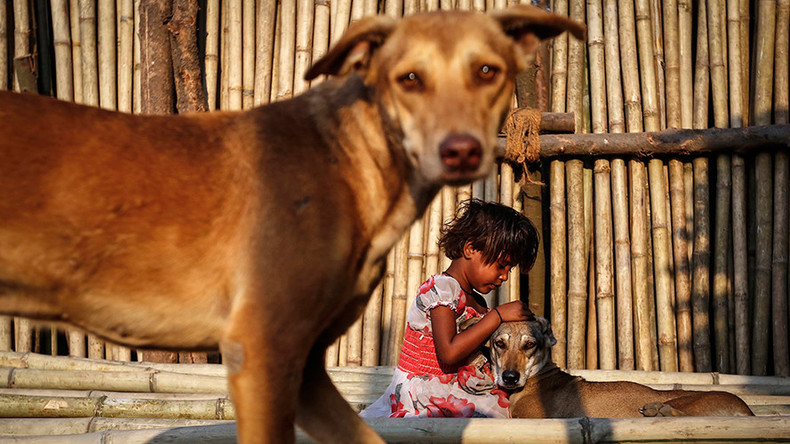 A college alumni association vowed to give gold coins to civic authorities that kill the most stray dogs in the state of Kerala, India, where over 700 people have been injured in dog attacks in the last four months, including 175 children.
The Old Students Welfare Association of St. Thomas College in Kerala said the award would be given to the heads of panchayats and municipalities across the state where the most stray dogs are culled, India's PTI news agency reported.
"We are planning to give the gift to panchayat presidents and municipality chairmen in the state who lead in killing maximum number of stray dogs. Our aim is to ensure the safety of people from violent canines," James Pambaykkal, Association General Secretary, said, adding that the gold coins would be bought with the contributions, earmarked by representatives of the 1,200-member association.
The weight of the coins is to be decided according to the total amount collected, with Pambaykkal noting that the civic authorities will have to submit day-to-day figures of the culled animals.
Four Kerala residents died after receiving fatal injuries in canine attacks in the last four months. This year alone, as many as 53,000 people had to receive special treatment for dog bites in local hospitals, according to PTI.
A 90-year-old man from Thiruvananthapuram, the capital and largest city of Kerala, died on Wednesday after being attacked by a pack of stray dogs, the Times of India reported.
A 65-year-old woman was mauled to death by a pack of stray dogs at Pulluvila beach, in Kerala, PTI reported, adding that she suffered dog bites "all over her body" and succumbed to injuries on her way to hospital. The woman's son said his mother was attacked by more than 100 stray dogs.
Animal rights activists and vets say the anti-dog sentiment in the state escalated following the latest attacks, noting that reducing the dog menace is a challenge.
"People are shouting, 'Kill them, kill them, kill them,' but even if you keep killing daily, you can never achieve the zero number," Kishore Janardhanan, a veterinary surgeon at a government-run dog birth control hospital in Kochi, told the Washington Post. "There is no easy, magic solution to the dog menace. The only scientific thing to do is sterilization. But in all this paranoia, our work has been discredited as a soft measure," he noted.
"The politicians, the media and the vigilante groups — they have all got Kerala into a panic mode," Latha Indira, an activist with People For Animals in the state, added. "There is no room for reason or restraint. Animal lovers are on the defensive right now."
Over 100,000 people in Kerala were bitten by dogs in 2015-16, a Supreme Court-appointed panel said in August, warning that frequent stray dog attacks on children in the state created a dangerous situation, PTI reported.
"India is a nation with substantial fatal rabies cases, mainly due to stray dog bites. Kerala is estimated to have stray dog population of [250,000], which feed lavishly on the [waste and garbage] dumps across cities and towns. Frequent stray dog attacks on children in Kerala have created a dangerous situation. As per government figures, 701 people, including 175 children, were injured across the state in stray dog attacks," a committee headed by former Kerala High Court Judge Justice S S Jagan said in its report, citing incidents of stray dogs "chasing, attacking and biting school children, aged persons, pedestrians, morning walkers and two-wheeler riders."