10yo Syrian girl gets prosthetic legs in Moscow after bomb attack, now runs & plays soccer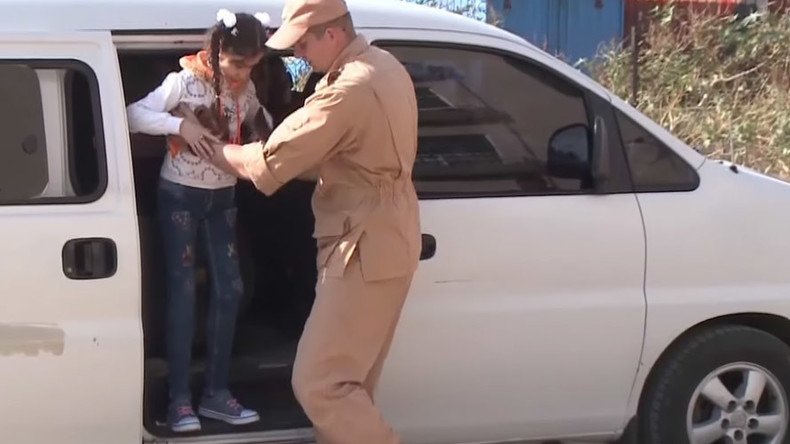 A 10-year-old girl who lost her legs in a terrorist attack in Aleppo and was taken from Syria to Moscow for surgery has finally completed her course of treatment. She can now play soccer, has picked up some Russian and is ready to return home to her relatives.
Sidra Zaarur, who came to Moscow in June along with her mother for bone realignment surgery on her legs, has fully recovered and is now again able to walk, run and even play soccer. She has made a number of friends at the hospital she was taken to, learned Russian quite well and is now dreaming of coming back to Russia to become a doctor.
Sidra is currently getting ready to go back to school and hopes to return to her hometown of Aleppo once militants leave the city.
"They helped me a lot in Russia. I can walk, run and play again. When the war is over, we will live in Aleppo. I wish that terrorists would go away. Why did they come and shoot at us? We lived so well when there was no war. Those who help them should take them back," the girl said, almost breaking into tears.
Her mother said: "Our family is very grateful to Russia. Thanks to Russian doctors, my daughter now feels healthy, she communicates and plays with other children. She could have been an invalid for her whole life in Syria, since our hospitals don't have that kind of equipment."
The mother also addressed the issue of making a distinction between terrorists and so-called moderate opposition backed by the US-led coalition.
"The US thinks they [moderate opposition fighters] are freedom fighters and helps them but in fact they are mere terrorists who have no mercy for neither children, nor women, nor old people… There is no way these animals could be justified. I believe, the war will be over when the US stops backing them," she added.
Sidra was wounded on April 16 when terrorists attacked Aleppo with "hand-made mortars that shot gas cylinders," the Russian Defense Ministry press service reported at the time.

Sidra saw her three-year-old nephew and older sister die in the attack, which naturally resulted in severe psychological trauma. Apart from providing the young Syrian with prosthetic legs, Russian doctors also helped her get over the death of her close relatives.
In May, Sidra and her mom were transported in an Ilyushin Il-76 plane equipped with an aeromedical kit from the Khmeimim airbase in Latakia province to Moscow following a request approved by Russian Defense Minister Sergey Shoigu.
You can share this story on social media: