5yo boy survives freezing wolf-infested Taiga safeguarded by 2 dogs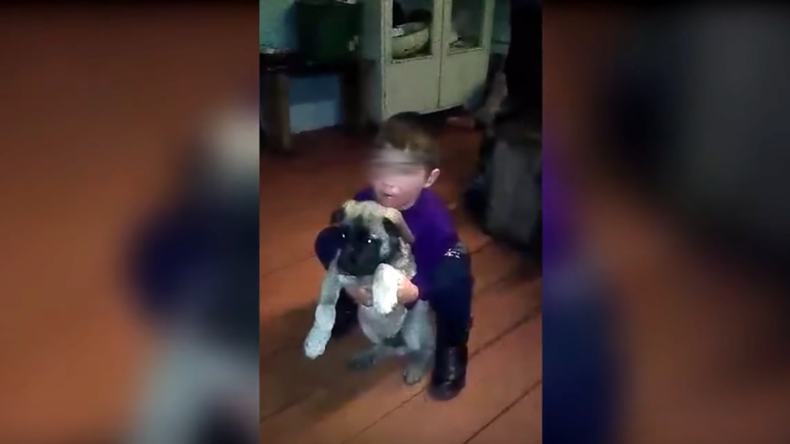 A five-year-old boy has been rescued after spending more than 24 hours alone in the wolf-infested Siberian forest in Buryatia, where night temperatures can drop to 20 degrees below zero C. His rescuers spotted fresh wolf tracks only 200 meters from the place where he was found.
The boy's parents were busy with their daily routine and did not immediately notice that their son had actually gone missing. They first tried to find the boy on their own and with the help of neighbors, but after the search proved fruitless, they called the police.
Dozens of law enforcement officers, along with local hunters and foresters, took part in the search. They explored the entire neighborhood by car and on horseback, and had almost lost hope to find the boy alive.
Luckily though, the boy was found in the forest quite by accident, some 14 kilometers from home. The man who found him — a local resident — said he first spotted his hunting dog which had gone missing earlier. The dog ran to its master's voice, and that's when the man saw the little boy, who was hugging a puppy while sitting in a ditch.
According to preliminary information, the child lost track of time and place on Wednesday, playing with a puppy which began following an adult dog, and the boy ended up getting lost.
The boy is currently said to be in a satisfactory condition in a medical facility, Buryatia's Ministry of Internal Affairs reported.
READ MORE: 'We went too far': Japanese boy abandoned in woods by parents found after 6 days (VIDEO)
The child's 26-year-old mother was meanwhile brought to administrative responsibility for the "improper performance of duties on the maintenance and education of the minor."
Late last month, a three-year-old boy was rescued after spending 72 hours alone in the bear and wolf-infested Siberian forest. The child also ended up stranded deep within the Taiga after getting carried away playing with puppies near his home in the remote Tuva Republic.
You can share this story on social media: