Russia 'puzzled' by Norway's decision to host US Marines in violation of decades-old commitment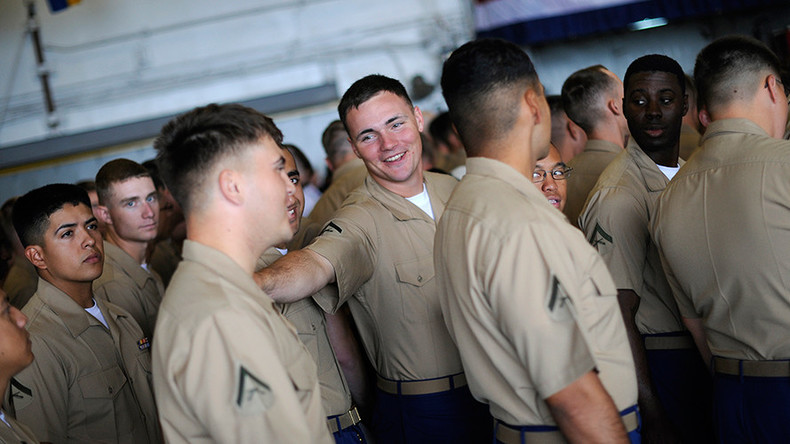 Norway is to break a decades-old commitment not to host foreign troops on its soil by accommodating 330 US Marines next year. Russia, the apparent target of the buildup, said it was puzzled by the move.
The Marines will be stationed at the Vaernes military base in central Norway from January, the Norwegian Defense Ministry said in a statement on Monday. The agreement for the deployment will be reviewed in the course of the year, it added.
"The United States is our most important ally and we have a near-bilateral relationship that we wish to develop," Defense Minister Ine Eriksen Soereide said.
While Soereide didn't specifically mention a Russian military threat on Monday, she had previously voiced sentiments about Russia currently prevalent within the alliance.
Moscow denies posing a threat to any NATO member.
Commenting on Norway's decision, the Russian embassy in Oslo said it was puzzled by the step.
"Taking into account multiple statements of Norwegian officials about the absence of threat from Russia to Norway, we would like to understand for what purposes is Norway so willing to increase its military potential, in particular through the stationing of American forces in Vaernes?" it told Reuters on Tuesday.
Norway is a founding member of NATO and has an almost 200km-long border with Russia in the Arctic. During the Cold War the country stored large amounts of military hardware meant as a contingency for a major war in Europe. The equipment was meant to arm a contingent of NATO troops, which would be deployed in Norway.
However, Norway pledged not to host foreign troops on its soil in 1945, after Soviet troops left the country after driving out the Nazis. The commitment survived decades of ideological confrontation and continued after the USSR's collapse.
Other NATO members have sent troops for training in Norway, with as many as 15,000 visitors arriving for an exercise in 2000. The new deployment of US Marines technically follows the same procedure, allowing US military personnel in Norway on provisional rotation rather than permanently.
Oslo's decision was criticized by some politicians in Norway.
"This is not a good signal to send. We face a cold political climate that requires predictability from Norway," Audun Lysbakken, the leader of the opposition Socialist Left party, told public broadcaster NRK.
"We should rather reinforce our national defense and not aim for some form of permanent presence by US troops," he said.
The government says the US gets more from the deployment than Norway does in terms of security. Norway's military has operational experience in harsh weather conditions and mountainous terrain, which is less common for the US, which usually deploys troops to hotter locations like the Middle East.
The deployment appears to be in line with NATO's strategy to boost its military presence close to Russia's borders. The alliance decided to send four 1,000-strong battalions each to Poland and the Baltic states, claiming it was needed to deter Russia.
You can share this story on social media: