Russia withdraws request for carrier battle group to refuel in Spain amid NATO pressure on Madrid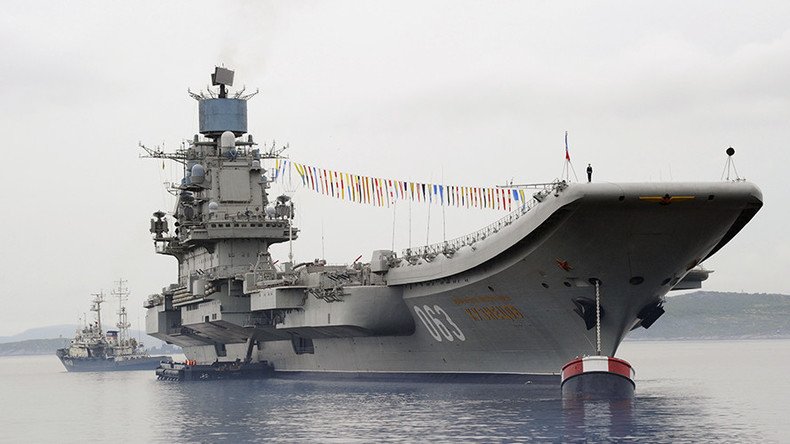 Russia has withdrawn a request for its aircraft carrier group to be refuelled at the Spanish autonomous port of Ceuta, as the ships have already passed Gibraltar, a Russian Embassy source told RIA Novosti. Earlier, top NATO & EU officials expressed anger at reports of Spain's decision to allow the stopover.
"We confirm that the request has been withdrawn," an official of the Russian Embassy in Spain told RIA Novosti on Wednesday.
Earlier, Spanish newspaper El Mundo reported that the naval group led by the aircraft carrier Admiral Kuznetsov had already passed through the Strait of Gibraltar heading to the eastern Mediterranean Sea.
"The Russian Embassy in Madrid has just informed us that it is withdrawing the request for permission for stopovers for these ships and these stopovers have therefore been cancelled," Spain's Foreign Ministry later said, quoted by Reuters.
A barrage of harsh statements followed when Spanish media reported that Russia's naval battle group led by aircraft carrier Admiral Kuznetsov would make a stopover at the autonomous port of Ceuta after passing the Straits of Gibraltar on Wednesday.
Russian ships would moor in Ceuta to take on fuel and supplies under a permit issued by Spain's Foreign Ministry, Spanish newspaper ABC reported on Tuesday, also citing Defense Minister Pedro Morenes, who said that "there was a prior authorization for this particular case."
Guy Verhofstadt, former Belgian prime minister and currently EU envoy for Brexit talks with the UK, expressed his outrage, calling Spain's decision "the harassment of EU and NATO forces."
In a Facebook post, he said that NATO member Spain "provides assistance to a fleet which has one purpose," adding that "only last week this Spanish Government signed up to a statement from the European Council accusing Russia of war crimes against civilians in Aleppo."
Later in the day, NATO Secretary General Jens Stoltenberg made it clear that the bloc wants Madrid to rethink the stopover permit.
"We are concerned and I have expressed that very clearly about potential use of this battle group to increase Russia's ability and to be a platform for airstrikes against Syria," he said.
"This is something I have conveyed very clearly before and I repeat those concerns today and I believe that all NATO allies are aware that this battle group can be used to conduct airstrikes against Aleppo and Syria."
He then downplayed the rhetoric, noting that "it's for each nation to decide whether these ships can get supplies and be fuelled in different harbors along the route towards the eastern Mediterranean."
Late Tuesday night, the Spanish Foreign Ministry said it was "reviewing" the decision. "The latest stopover requests are being reviewed at the moment based on the information we are receiving from our allies and from Russian authorities," the ministry said in a statement, quoted by Reuters.
Earlier in the day, however, the ministry told RIA Novosti that Madrid allows Russian ships to dock in Spanish ports as "routine navigation" which effectively lies outside EU sanctions imposed on Moscow.
In the meantime, a spokesman for the Foreign Ministry told the Telegraph the requests from the Russian Navy "are considered on case-by-case basis," stressing that "Russian navy vessels have been making calls in Spanish ports for years."
British Defence Minister Michael Fallon also expressed his discontent on Wednesday.
"We'd be extremely concerned that any NATO member should consider assisting a Russian carrier group that might end up bombing Syrian civilians," he said as cited by Reuters.
Earlier, the Royal Navy's HMS Richmond escorted the carrier group from the Norwegian Sea as it went south to the English Channel, and the HMS Duncan, a Type 45 destroyer, sailed from Portsmouth last Tuesday to "man-mark" it.
Spain 'betrays NATO allies' hosting Russian warships – oh, really?

Ceuta, an autonomous Spanish enclave on the tip of Africa's northern coast, lies along the Straits of Gibraltar and borders Morocco, which also claims the territory as its own.
Although Ceuta is part of the EU, its status within NATO is still unresolved. Since 2011, Spain has rankled the bloc by allowing 57 Russian warships to refuel at the enclave.
The mission of the Admiral Kuznetsov carrier group has already triggered a media frenzy across Europe, with British, Norwegian, and Dutch navies sending frigates and surveillance vessels to shadow the Russian warships as they round European shores through international waters.
Once they reach Syrian shores, the ships will provide backup for Russia's naval standing group already deployed to the area, according to the Russian Defense Ministry.
You can share this story on social media: