Radiation alert: Discovery of uranium rock in Austrian school triggers evacuation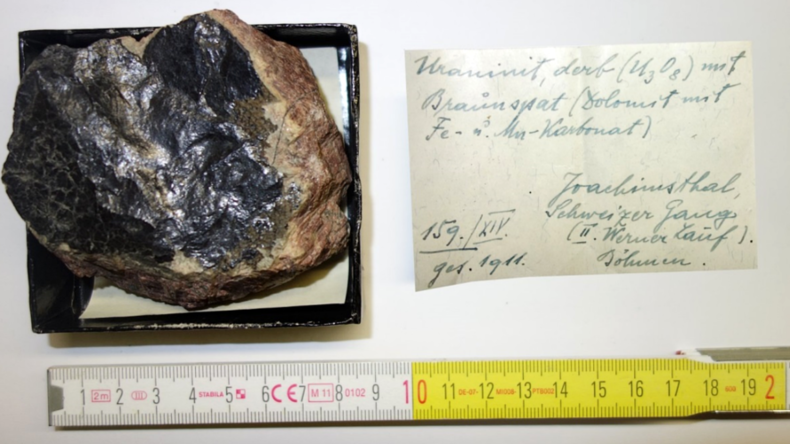 A science class meeting with an anti-nuclear activist at an Austrian school ended in an evacuation, after a radioactive uranium rock was found on display in the classroom. The incident led to a city-wide check which found at least 11 other schools had radioactive rocks.
The discovery was made as anti-nuclear campaigner Thomas Neff was giving a lecture at the Missionaries of the Sacred Heart School in Salzburg, the fourth-largest city in Austria, local media reported earlier in October.

Neff brought along a wristwatch from the 1960s with dials covered with a substance containing radium-226, which makes the numerals glow in the dark. He was planning to use the timepiece as an example of the dangers of radiation, of which little was known half a century ago.
"I brought the old watch from the 60s which lights up brightly at night because of the radiation," Neff said, as cited by Austrian media. He added that the watch was carefully sealed and didn't emit any radiation.
Even before Neff had got the watch out, however, his Geiger counter began to show that there was a source of radiation in the room. It displayed 1,200 counts per minute, some 20-25 times higher than the normal value.
Neff inspected the room to find the source of the radiation, and as he was walking past a collection of rocks, the Geiger counter jumped to over 102,000 counts per minute.
The classroom was immediately evacuated, with experts later discovering that one of the rocks on display was in fact a lump of uranium.
"If you had this rock the whole year in your bag, you would get around 210 millisievert exposure. The exposure to radiation from natural sources is only 2.8 millisievert in a whole year in Austria," Neff said.
The discovery triggered mass checks across schools in Salzburg. The Radiological Laboratory of Salzburg (RMLS) soon released a report, saying that it had inspected at least 336 schools in the Salzburg region and that in 73 of them the inspection had discovered a collection of rocks. Radioactive rocks were found in 11 of these schools. All in all, 38 pieces of uranium rocks were found during the 'anti-nuclear' checks.

In the meantime, a radiological laboratory in Austria said that schools were ignoring the dangers of radiation.
"The radioactive screening and the risk assessment show a basic risk potential in Salzburg schools in case of improper storage," Central European News cited the laboratory statement as saying, as reported by the Local.