Over 80 NGOs call for Russia to be dropped from UN rights council over Syria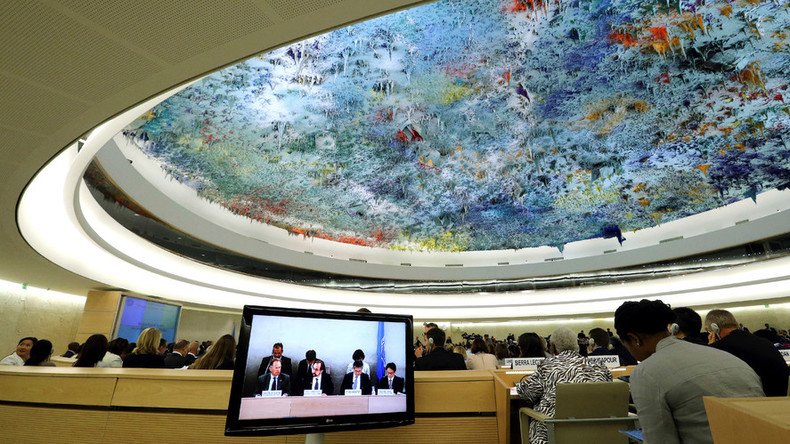 A number of human rights and aid organizations have urged the United Nations to deprive Russia of its seat on the UN's Human Rights Council (UNHRC), AFP reported on Monday.
More than 80 international organizations have signed the appeal, with such groups as Human Rights Watch, CARE International and Refugees International among them, AFP says.
The move was prompted by Russia's involvement in the anti-terrorist campaign in Syria.
The signatories asked the UN member states to "question seriously whether Russia's role in Syria which includes supporting and undertaking military actions which have routinely targeted civilians and civilian objects renders it fit to serve on the UN's premier inter-governmental human rights institution," AFP reports, citing the text of the appeal.
The appeal has been submitted ahead of elections to the UN's human rights body that are scheduled for Friday. The UN General Assembly in New York will be selecting members to fill 14 seats, with Russia, Hungary and Croatia running for two seats representing the Eastern European group at the council.
Saudi Arabia, China, Iraq, Brazil, Cuba, Egypt and South Africa are among the other countries vying for seats in various regional groups. The US and UK are seeking election to the two seats representing the Western Europe and Others group. Elected nations will be represented in the 47-nation council for three years, starting from 2017.
Russia is currently in the UNHRC, but its membership expires this year.
Last week, Britain and its Western and Arab allies introduced a resolution to the UNHRC demanding a review into alleged human rights violations in the Syrian city of Aleppo. The council then voted to start an independent special inquiry into the situation in the war-ravaged city.
Russia has been assisting the Syrian Army in fighting Al-Nusra Front terrorists in eastern Aleppo, which has become the militants' stronghold in Syria. However, the West has blamed Moscow and Damascus for most of the civilian casualties in the area.
Russian Foreign Ministry spokeswoman Maria Zakharova has called the resolution's accusations "cynical" and "dishonorable."
The fighting has divided the city of Aleppo into two parts, with its western districts currently under government control and eastern parts held by rebels and Al-Nusra Front fighters. Although the militants have constantly attacked western Aleppo, resulting in numerous civilian deaths, last week Russia and Syria initiated a humanitarian ceasefire, giving people a chance to flee the battle scene.
But despite the hopes, civilians have not been able to leave the militant-held eastern Aleppo for days, with terrorists constantly bombing humanitarian corridors. The UN and other aid groups which were supposed to bring humanitarian aid through the corridors were unable to do so because of security concerns.
READ MORE: West should abandon hostile rhetoric & take effective measures to help Syrians
The NGOs, some of which are well known "respectful organizations," have become "pawns in a propaganda war" as part of an "orchestrated campaign" against Russia, according to Peter Ford, a former British ambassador to Syria.

"It's a great pity that they have allowed themselves to become pawns in a propaganda war. It seems this initiative has been orchestrated, it comes here right at the moment [when] the ceasefire of three days ended only because of violations from eastern Aleppo, from the rebel side. The call would have been more convincing had signatories shown any interest in...the suffering in western Aleppo at the hands of the rebels," Ford told RT.
"The double standards here are very striking," Ford added. "And this comes at a time when in Mosul, the Western coalition and allies are engaged in an operation very similar to Aleppo. With regard to that, the Western spokesmen just shrug their shoulders and say, "Well, civilian suffering is an inevitable part of operations." But in the case of Aleppo, Russia and the Syrian government get all the blame."
Investigative journalist Willy Van Damme, who has been closely following the Syrian conflict, told RT he was not surprised by the NGO's move. "I haven't seen the list of all these 80 NGOs, but there are apparently a lot of NGOs involved in Syria exclusively... and they are financed by Saudi Arabia, United States, France, United Kingdom, Qatar… and repeat what their governments want them to say."
"These organizations are not really dealing with human rights, they use human rights as an excuse to meddle in affairs of other governments," he told RT. "Double standard is the rule of the game in international diplomacy. The US has destroyed Iraq, Libya, Afghanistan... but these NGOs never talk about it, they don't make any reports on it. You could call them traitors of human rights."
"I think this is all part of a continuing demonization of Russia... These organizations have done no investigation and they've just jumped on a bandwagon because it's very easy at the moment to demonize Putin and Russia in general," Mike Raddie, co-founder of BSNews in the UK, told RT.
READ MORE: UN fails to launch independent probe into Yemen war crimes
"I was in Damascus last month and if the people of Syria were given any part in this vote, then Russia would be representing Eastern Europe in the UN Human Rights Council. Everyone I spoke to was so appreciative of Vladimir Putin and the Russian soldiers, especially the sappers who have been de-mining and removing booby traps in places like Palmyra," Raddie said, pointing out that Russia was invited by the legitimate Syrian government, unlike all the Western countries who are "bombing there illegally."
You can share this story on social media: