3 killed, 28 injured in militant shelling of govt-held Aleppo (GRAPHIC IMAGES)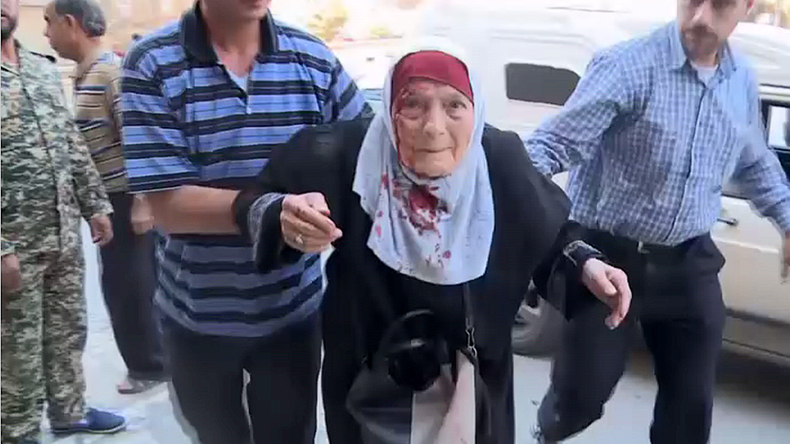 Three people have been killed, including a seven-year-old girl, and 28 more injured after militants shelled residential areas of government-held West Aleppo, reports RT correspondent Murad Gazdiev, who is there and has spoken to those injured.
The attacks, which targeted West Aleppo's Hamdaniya district and Salah-Eddin neighborhood, lasted for hours, Gazdiev said, citing his sources on the ground.
"Today's barrage began in the early hours of the morning, at dawn. It lasted through to midday. And that is perhaps the worst possible time, as hundreds of thousands of children and adults go to school and to work," the RT reporter said. "The casualties at this time are always high," he stressed.
Following the devastating shelling, Gazdiev witnessed the wounded people brought to the hospital first hand. He managed to speak to a resident who was injured, but survived the attack.
"I was in my stall talking to a customer. And I felt something hit my shoulder and neck. I saw all the people dive down and fall… There was a scream, I don't know from where. The next moment I'm at the hospital," he told RT.
According to the man, one of the shells hit a "vegetable and fruit market."
Militants and terrorists standing their ground in East Aleppo have been repeatedly shelling the western part of the city, which is currently under government control. On October 18, at least three people were killed and dozens injured when the Jamiliya neighborhood was shelled.
Two days later, Russia and Syria initiated a three day humanitarian pause to give civilians and militants that wanted to leave East Aleppo safe passage out. Both Damascus and Moscow had halted their anti-terrorist airstrikes earlier. However, not a single civilian managed to get out of the besieged areas during the pause, which ended on October 22.
Gazdiev, who was at one of the special corridors created by the Syrian government and the Russian Reconciliation center, said no civilians had been let through. The same applied for the rest of the corridors, according to the UN. Instead, the "militants and terrorists shelled the crossings," where ambulances and buses were waiting for anyone coming out of East Aleppo, Gazdiev said.
Last week, an RT crew managed to speak to people with relatives still trapped in the militant-held part of Aleppo. A woman, whose three children are living with their grandmother there, said "they are doing very badly."
"They do not have food or drink – nothing," she said.
Damscus based political analyst Taleb Ibrahim told RT that the terrorists and militants in Aleppo are simply using the humanitarian pauses to beef up their forces.
"Terrorists who are in eastern Aleppo want a new pause, want a new break of fighting to bring more and more supplies, more and more men to fight on their side," Ibrahim said.
He added that the decision to remain in the besieged city during the ceasefire unilaterally observed by Russian and Syrian forces is a sign that a greater battle for Aleppo is to come.
"Syrian army asked the militants to leave and there was amnesty for those who do not want to fight. Why they refused? I think that there is a kind of preparation for a decisive battle in Aleppo and everybody now is preparing for that battle."
You can share this story on social media: