'Highway to hell': Top German comedian slams NATO 'aggressive war machine' (VIDEO)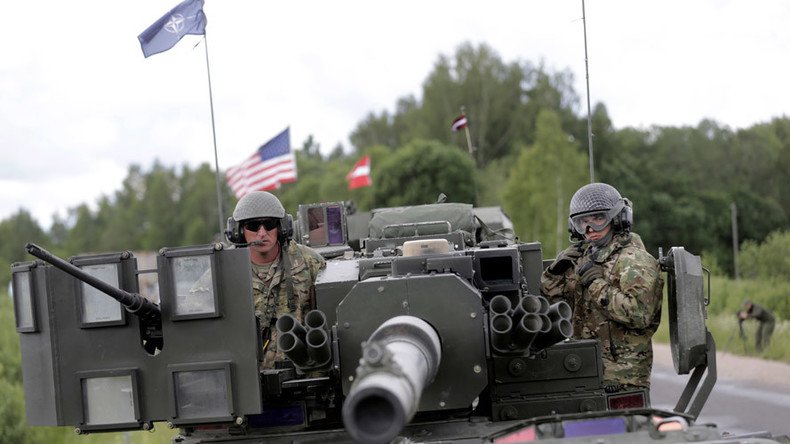 A top-billing standup comedian from Germany, Lisa Fitz, has dedicated one of her recent shows to global politics. She touched upon issues such as the US acting as a "world policeman" and NATO turning into a "monster."
It cost her some cheers and laughs, but made the audience think, she told RT.
"I have read a lot about big politics, and done a lot of research," Fitz told RT's Peter Oliver, saying that she eventually came to a conclusion that "the USA is not our big brother, they are our boss. And they are like world's policeman, and sometimes we pay a big price for that."
READ MORE: German govt approves more troops for NATO mission in Turkey
The artists' research resulted in a not commonly laughable issue. She's come up with a show in which she dubs NATO policy "a highway to hell." It's her first "speech" that turned out to be "so hard, so up to the point," she said.
"We're on a highway to hell. NATO has mutated into some kind of werewolf, an alien, a monster. It has become an aggressive war machine," Fitz tells her audiences.
She expected people not to laugh. "I knew they wouldn't get it. They just couldn't," she said, adding that she is still proud of the show, as it fulfills one of satire's main aims – to "make people's minds work."
"Since I was 16 years old I've been fighting for peace, but it's a little bit naive to go on stage with a candle in hand and say 'We are all brothers and sisters...' Sometimes you have to put your finger on it. And the audience must not think the same thing that I think, they just have to think about it, I want to make their brain work," the comedian said.
In the end, she did get "a long [round of] applause and knew they understood," she said. Fitz now feels enthusiastic about political standup, and hopes more are to come. "What I want is to hear more about Russia, about Russian culture and Russian people, and not just 'Putin is bad' repeated like a mantra all the time, that's boring."
You can share this story on social media: