Police crowd Notre Dame square protesting France's 11-month state of emergency (PHOTOS, VIDEO)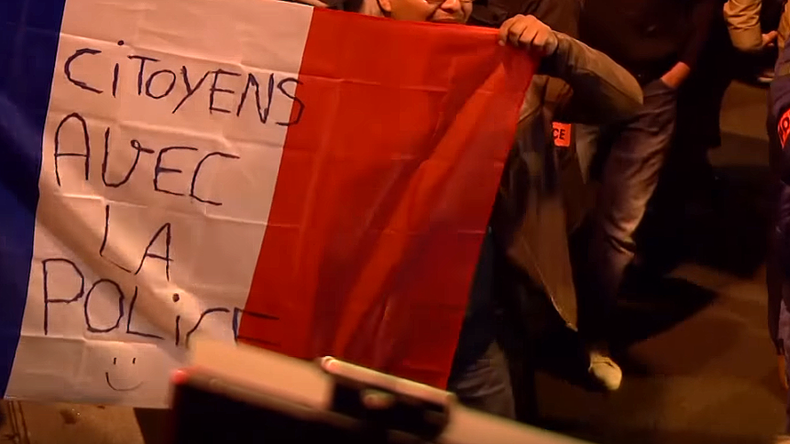 Several hundred policemen took to the streets of France, from Paris to Bordeaux, for the fifth night in a row to complain about the unbearable working conditions and fatigue caused by an 11-month state of emergency, saying they're stretched to the limit.
Policemen got together in front of the Notre-Dame cathedral in Paris singing La Marseillaise, the country's national anthem, while applauding every police siren passing nearby. The officers complain that they are not even well enough equipped to defend themselves and are calling for Interior Minister Bernard Cazeneuve's resignation, Le Parisien reported.
"We're asked to do things that have nothing to do with police work, like guarding theaters and synagogues and churches. It's becoming unbearable; we can't do it all," Nathalie, a 12-year veteran of the police force who asked that her last name not be disclosed, told CBC.
"If somebody dials 17 [France's 911], there aren't any cars around to respond. Misdemeanors, felonies... we don't have time for that anymore," another anonymous policeman said.
French police have been getting angrier since an officer was seriously injured in a Molotov cocktail attack in the suburbs of Paris on October 8, French broadcaster BVM said.
Similar demonstrations attended by hundreds of policemen have taken place in Lille, Marseille, and Grenoble, to name just a few cities.
"This movement is a minority, but there are still so many police in the streets, these are significant numbers who show up every night," Philippe Cavanac from the Unsa Police trade union told Radio Fidélité.
France has been in a state of emergency since the November attacks in Paris, in which 130 people were killed and more than 350 injured. Thousands of police and soldiers have been deployed to boost security at train and bus stations, airports, and schools since the tragedy occurred.
France's interior minister said in Lyon last week that the government has recruited 9,000 police staff since 2012, after a previous drop of 12,000 in the years under ex-president Sarkozy.
On Friday, French President Francois Hollande finally promised to meet with police officers next week.
Sarkozy said violent crime was not caused by insufficient police numbers, but rather the courts letting criminals off easy.
"I understand the anger of the police… I've never seen such an erosion of authority in this country," he told Europe 1 Radio on Thursday.
You can share this story on social media: