Latvia detains, deports chief producer of Russian news agency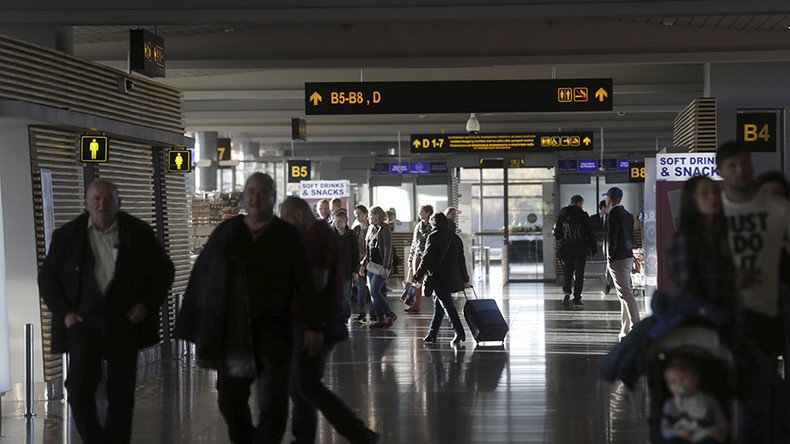 Latvian border guards have detained Ella Taranova, a chief producer for Russia's Rossiya Segodnya international information agency, who arrived for the Baltic Forum in Riga. According to RIA Novosti, she was deported late Friday.
After being held by border agents, Taranova was sent on a flight back home with Aeroflot on Friday evening, RIA Novosti reported.
It appears she had been blacklisted by the country's authorities in August 2014 but was never informed about it.
Taranova, who has a valid Schengen visa, arrived in the country by plane on Friday morning, alongside other Russian journalists, and "had no problems when passing border control," she said.
However, several hours after she checked in to a hotel, she was summoned to the registration desk where two Latvian border guards told her she was on a blacklist and must leave the country, TASS reports.
"It seems from 5 August 2014, I have been on a security services list of undesirable people," Taranova told RIA Novosti. "I knew nothing about this, only that I had been invited to a conference of the Baltic Forum."
"I was asked several times with suspicion whether I knew I was on the list, before being told that in theory, I should know," she added. "It was explained to me that the people on this list pose a threat and security risk to the Republic of Latvia. This is disgusting. I was not and am not involved in any political activity."
The Baltic Forum is an annual conference held since 1998. It is due to be held on Saturday in Jurmala. Participants will discuss the nature of the Russia-EU relationship and will include diplomats, experts and politicians from EU countries, Russia, Ukraine, China and the US. Taranova has a long-term partnership with the Forum and had attended several times prior to 2014.
RT's editor-in-chief, Margarita Simonyan, expressed her dismay.
"It is an outrage," she wrote on Twitter.
The Russian Foreign Ministry condemned the incident, saying the incident contradicts Latvia's international obligations regarding freedom of speech.
"This regrettable event completely fit into the fabric of the anti-Russian actions aimed at suppressing dissent and restricting freedom of expression, of the Latvian alternative media," an official statement read. "The existence of blacklists, the criterion for inclusion in it, which is being a professional journalist, is unacceptable in a democratic state, and contrary to all international commitments to ensure freedom of speech."
Meanwhile the Russian State Duma is going to demand an official explanation for Latvia's actions from the EU, the Council of Europe and the OSCE, Sergey Zheleznyak, a member of the Russian Parliament Foreign Affairs Committee, told reporters. This is just the latest in a series of attempts to "put pressure on the Russian media, which has become the 'new normal' of European policy," he said, as quoted by RIA Novosti.
Latvian MP Janis Urbanovics, who belongs to the center-left Harmony party, has warned that expelling Taranova is not good for Latvia's image. "I don't know why it happened that a person with a Schengen visa could arrive in any other country of the European Union, but turned out to be unwelcome in Latvia," Urbanovics said, RIA Novosti reported.
Tensions between Russia and Latvia have escalated since the start of the Ukraine crisis, with the latter aggressively suppressing what it calls Russian "propaganda." In May, Latvian authorities blocked the Russian news agency Sputnik's .lv domain, citing alleged violations of EU regulations. The Russian Foreign Ministry has called Riga's actions "nothing less than censorship."
You can share this story on social media: