15 women killed, dozens more wounded in air raid on shrine near Kirkuk – report
An airstrike has left 15 women dead and 50 more injured after it hit a Shiite shrine near the Iraqi city of Kirkuk, AFP reports, citing a local official and medic.
Read more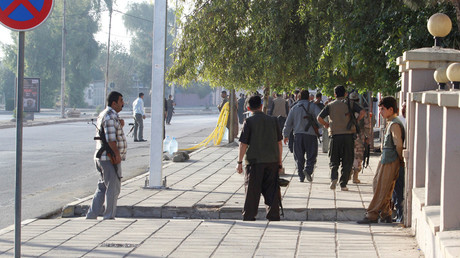 "Fifteen women were killed and another 50 wounded in a raid that targeted a Shiite place of worship at Daquq," local council chief Amir Huda Karam told AFP.
The agency reports that the number of those killed and injured has been confirmed by a local medic, Dr Abbas Mustafa Dakuki.
There is no information on who exactly carried out the alleged bombardment.
Earlier on Friday, Islamic State (IS, formerly known as ISIS/ISIL) 'sleeper cells' launched an attack on government buildings in the city, sparking clashes with security forces while Iraqi forces continue their offensive on the IS stronghold of Mosul.
"It was expected that ISIS sleeper cells would make a move one day in Kirkuk now that the Mosul offensive has started and they want to boost their own morale this way," Kirkuk Governor Najmaldin Karim told the Rudaw media agency on Friday.
The Iraqi Army launched a full-scale ground offensive on Monday to retake Mosul.
Iraq's second-largest city has been under terrorist control since summer 2014 and is seen by the jihadists as their capital in Iraq.