'ISIS terrorists fleeing Mosul for Syria's Raqqa' – French President Hollande echoes Russian concern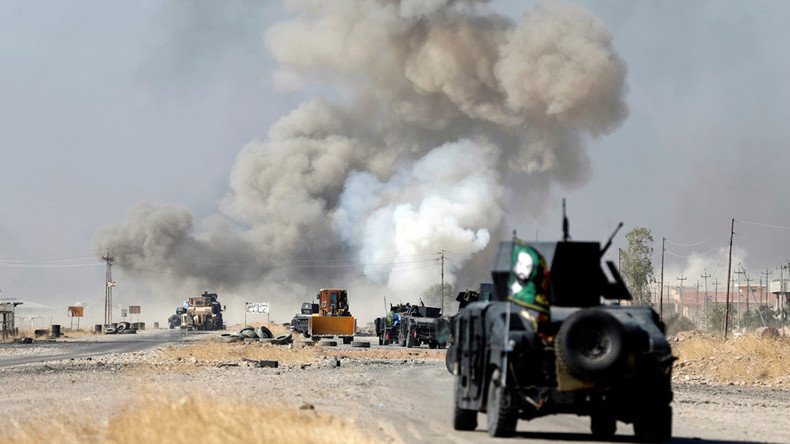 Islamic State militants are fleeing the battle for the Iraqi city of Mosul and are traveling to the group's Syrian stronghold, Raqqa, French President Francois Hollande said. Ahead of the Mosul operation, Russia warned of the relocation of jihadists to Syria.
"We can't afford mistakes in pursuit of terrorists, who are already fleeing Mosul for Raqqa," Hollande is cited as saying by AFP.
The French leader was speaking in Paris at a meeting of top officials from more than 20 members of the US-led coalition, aimed at working out a stabilization plan for Mosul.
The battle for the strategic Iraqi city, which was held by Islamic State (IS, formerly ISIS/ISIL) since 2014, began on Sunday and has since intensified. The Iraqi military and US-led coalition said that the operation to retake Mosul may take weeks or even months.
Late on Thursday, the Iraqi military said it had captured the town of Bartella, situated some 15 kilometers from Mosul. Lieutenant-General Talib Shaghati called the liberation of the town an "important" achievement for the operation, PressTV reported.
"Everything must be done to ensure the safety of civilian populations, now residing in combat areas and used as human shields by Daesh [Arabic pejorative term for IS]," Hollande said, adding that anti-IS forces must act "in full respect of human rights and international humanitarian law."
The International Committee of the Red Cross (ICRC) estimates that up to 1 million civilians may be displaced due to the fighting. According to the International Organization for Migration, around 5,640 people had to flee their homes in Mosul in the last three days, with the majority leaving in the last 24 hours.
French Foreign Minister Jean-Marc Ayrault urged for the de facto Islamic State capital, Raqqa, to become the next target of the international forces.
"It's obvious that after Mosul an offensive with similar perspectives must be prepared in Raqqa," he said at a joint press conference with his Iraqi counterpart in Paris.
According to Ayrault, the battle for Mosul is decisive both militarily and ideologically because it's about "stabbing Islamic State in its very heart."
Also on Thursday, Russia's General Staff expressed hope that the US-led coalition would cut off all escape routes for the terrorists in Mosul.
"We hope that our partners from the international coalition realize what the consequences would be of having bands freely roaming around the Middle East. Terrorists should be destroyed on sight, not chased from one country to another," said Army General Valery Gerasimov, chief of Russia's General Staff.
Last week, Russian Foreign Minister Sergey Lavrov said that Mosul wasn't fully encircled by the Iraqi forces and the coalition, warning that this "corridor poses a risk that Islamic State fighters could flee from Mosul and go to Syria."
READ MORE: Lavrov on Mosul operation: ISIS fighters may move to Syria
Earlier, RIA Novosti cited a Russian military-diplomatic source as saying that the US and Saudi Arabia have agreed to grant free passage from Mosul to thousands of IS militants.
"More than 9,000 Islamic State militants will be redeployed from Mosul to the eastern regions of Syria to carry out a major offensive operation, which involves capturing Deir ez-Zor and Palmyra," the source said.
European Union officials have also expressed concern that the jihadists, escaping Mosul, would return to Europe and carry out terrorist attacks.
You can share this story on social media: