'Don't chase terrorists to other countries, kill them on sight' – Russia on Mosul offensive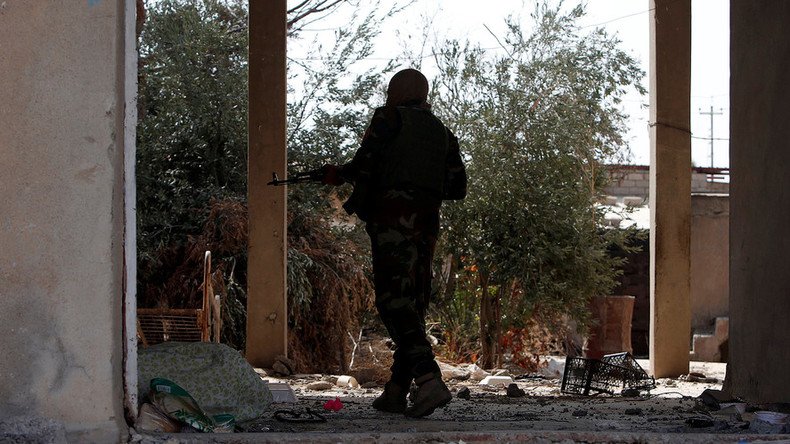 The Russian military says it hopes the US-led coalition will not allow Islamic State terrorists holding Mosul to flee the city and go to Syria. It warned the operation is still being monitored.
"Our surveillance spacecraft have been retargeted [at Mosul]. Over a dozen of our surveillance aircraft, including drones, are working in the vicinity," Army General Valery Gerasimov, the chief of Russia's General Staff, said.
The general said that the Russian military are particularly concerned with a scenario, in which militants from Islamic State (IS, formerly ISIS/ISIL), who are currently holding the Iraqi city, would "try to escape Mosul or be granted safe passage out of it towards Syria."
"We hope that our partners from the international coalition realize, what would be the consequences of having bands freely roaming around the Middle East. Terrorist should be destroyed on sight, not chased from one country to another," Gerasimov said.
The Iraqi government announced an operation to re-take Mosul from IS last Sunday. In addition to the Iraqi regular army, the offensive force includes Kurdish militias and the US-led coalition, which is to provide air support for the ground force. Turkish troops, which were deployed in Iraq against the wishes of Baghdad, will reportedly play a role in the offensive as well.
IS seized Mosul in June of 2014, when it was Iraq's second-largest city. The terrorist group's leader then turned it into a major military stronghold, and it is believed that between 4,000 and 8,000 IS militants are entrenched there.
The International Committee of the Red Cross (ICRC) estimates that up to 1 million civilians may flee Mosul amid the offensive, putting a strain on Iraq's capacity to accommodate internally displaced people.
"Mosul is a city of between 1.2 and 1.5 million people. With the operation being undertaken that's going to lead to some people being displaced. We don't know the number of people that will be displaced. So UNICEF is preparing for water and for sanitation for up to 700,000 people in all," UNICEF's representative in Iraq, Peter Hawkins, told RT.
You can share this story on social media: