'We eat pork and drink alcohol': Norwegian minister roasted after giving Muslims integration advice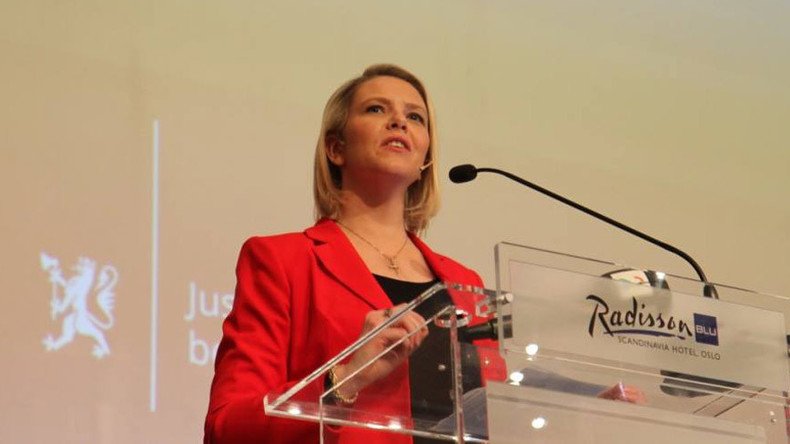 Norway's controversial migration and integration minister has sparked a firestorm of criticism after issuing firm instructions to newly-arrived Muslim immigrants, but claims she was merely helping the newcomers find a true home in the Scandinavian country.
"I think those who come to Norway need to adapt to our society. Here we eat pork, drink alcohol and show our face. You must abide by the values, laws and regulations that are in Norway when you come here," said a Facebook post by Progress Party minister Sylvi Listhaug, which has since gone viral, garnering 19,000 likes and 4,500 shares.
The post contained a link to an article in Dagbladet newspaper, in which the 38-year-old right-wing politician, who was appointed to her post in December of last year, expounded on her views.
"It is not society's task to adapt to immigrants, and it is important that we signal clear requirements to them," said Listhaug, speaking ahead of this week's national conference on integration, adding that "the main thing is that those who come should learn the language and acquire a job, so that they can become self-supporting."
Listhaug, who was previously the country's agriculture minister, also spoke out against public institutions that no longer serve pork to avoid offending Muslims.
In less than a year, Norway's number of new immigrants has fallen from an all-time record high of 32,000, to an expected 19-year-low of 3,550 new arrivals by the end 2016. To some extent, this can be explained by an overall fall in traffic into Europe, but it may also be attributed to a tightening of the system overseen by Listhaug, which includes payments to those who want to go home.
However, the minister, who is a member of the ruling Blue-Blue coalition between a mainstream conservative party and the populist Euroskeptic Progress Party, says that even those who have already arrived pose a number of issues.
"Going to a job interview, you wouldn't wear sweatpants and a cap. So, don't wear a niqab or a burka," continued Listhaug. "In our country alcohol is a legal commodity, so if you work in a place that provides it, you can't opt out of serving beer, wine or other drinks… We've had people refusing to handle pork."
"Each of us has to pay attention to our surroundings, and the Norwegian taxpayer will not fund your life," explained Listhaug, who has previously mentioned that there are particular problems connected with integrating Muslim women into the workforce.
'Listhaug makes me frightened and and uneasy'
The response to Listhaug's comments was immediate and scathing – with multiple calls for her resignation delivered through editorials and media interviews.
"Listhaug oversimplifies if she thinks dress, pork and alcohol are the main reasons immigrant women fail to integrate. It is important to find out what they can do, and offer them tuition and training," Ann-Magritt Austena, head of the Norwegian Organization for Asylum Seekers (NOAS), told Dagbladet.
"If she does not understand the complexity and does not have the expertise to deal with these social issues in a good way, it's time to ask: should Listhaug reconsider her position?" Omar Gilani Syed, a leading public expert in migrant integration, wrote in the Aftenposten newspaper.
"Is this yet another populist statement with the aim to gathering as many as possible votes? For myself, I become frightened and uneasy at the thought of an integration minister who sweeps the really big problems under the carpet and reduces the whole integration debate to dealing with pork and alcohol," he continued.
Zaineb Al-Samarai, a politician in the opposition Labour Party, lashed out in the Dagbladet.
"I do not believe that Norwegian culture is so weak that it's going to lay down and die if someone chooses to wear a hijab as their national costume. Norwegian culture is not as weak or in danger as you believe. And Norwegian culture is about a lot more than pork and headgear."
The ruling coalition has largely ignored the harsh backlash and generally echoed Listhaug's statements when asked for comment.
"No, you probably wouldn't get a job from me or from many others if you were wearing a niqab on you," said Prime Minister Erna Solberg.
"I believe those who choose to wear the hijab or niqab desire to provoke. I would find it smarter if they instead used their time and energy to adapt themselves to Norwegian society," chimed in Progress Party leader Siv Jensen.
You can share this story on social media: