Norwegian minister ridiculed after plunging into Mediterranean to 'see refugee's perspective'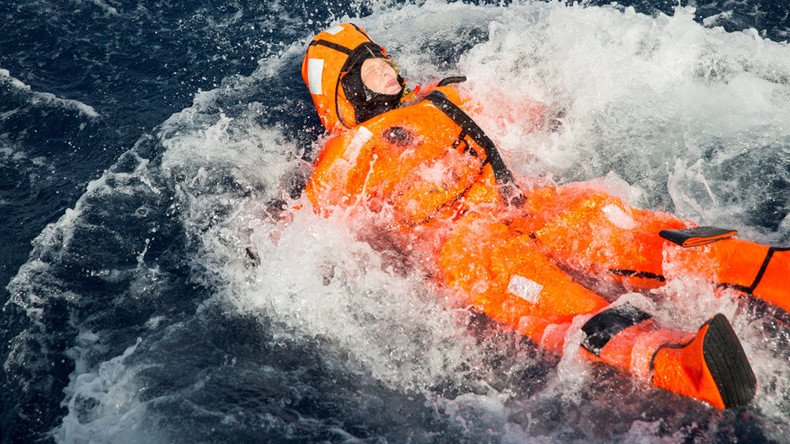 A Norwegian politician donned a survival suit and threw herself into the Mediterranean to experience the roles of refugees and rescue workers, but the stunt backfired as she faced fierce criticism online.
Immigration Minister Sylvi Listhaug says she jumped into the waters off the coast of the Greek island of Lesbos in an effort to pay tribute to the rescue workers aboard the Norwegian ship Peter Henry von Koss, who have saved refugees from drowning.
But Listhaug, a member of the Progress Party, also believed the opportunity could provide her with the chance to see things through refugees' eyes.
"You can't put yourself into the same situation as the refugees but you can see it from that perspective [and experience] how it is to be in the water that way," Listhaug told NTB.
She admitted, however, that "it's not comparable" because refugees "don't have a survival suit." Listhaug was kitted out in flashy orange gear which left only her face exposed to the elements.
But the gesture was greeted with a backlash online, with many laughing at the notion that a few minutes in the water under the supervision of a rescue crew was comparable to the journey made by refugees desperate to cross into Europe.
"Today I'm going to sit in a chair for five minutes so I can really feel what it's like to be paralyzed," lawyer Brynjar Meling tweeted.
Twitter user @morten expressed a similar sentiment, saying "Next week: Sylvi Listhaug will experience what it's like to be blind by shutting her eyes."
Media critic George Gooding posed the question of whether Listhaug should have drowned to truly experience what it's like to be a refugee.
OK alle dere som har Listhaug Derangement Syndrome: hva er liksom greia? Skulle hun druknet for å få erfare hvordan det er å være flyktning?

— George K. Gooding (@GeorgeGooding) April 19, 2016
However, the immigration minister has defended herself against the various criticisms.
"I spoke with the crew, who told me horrible stories. They are heroes who have saved over 3,000 people. When I was asked to see how they operate, of course I said yes. It would have been completely rude not to have done it," she told TV2.
It's not the first time that Listhaug – who is known for her hardline stance against migration – has found herself wrapped up in controversy. The minister sparked outrage in November when she claimed that Jesus Christ would have agreed with her party's strict migration policy.
Listhaug's stunt comes just days hundreds of refugees are thought to have drowned after a ship sank in the Mediterranean between Libya and Italy.
You can share this story on social media: