'Horribly tough': Norwegian teens 'play refugee' to understand plight of asylum seekers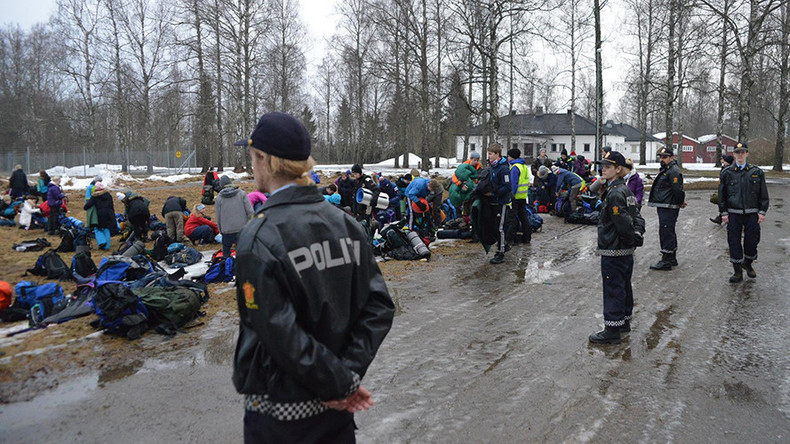 Norway has taken an unorthodox approach to teaching teens about the realities of being an asylum seeker – by allowing them to role-play as refugees for 24 hours.
The experience is hosted by the Refugee Norway organization, and its organizers mean business. The teens' watches and cellphones are confiscated upon arrival, and the youths are grouped into 'families' of 20 people who must 'flee' violence, The Local reported.
It all begins at a decommissioned military camp near Oslo airport, just a stone's throw away from a location where actual illegal migrants are awaiting deportation.
However, the teens don't remain on the premises. They're forced to flee after the 'UN camp' – supposedly in Sudan – is 'attacked.'
They walk through the darkness, in winter temperatures averaging around zero degrees Celcius (32 degrees Fahrenheit). Their growling stomachs must be ignored, as most refugees leave their homeland with only the clothes on their backs – not food. They must hide when they spot headlights.
They cross imaginary borders and come up against corrupt bureaucracy and angry border guards who shout at them in poor English.
When they finally receive dinner, they're given just a few rice balls – which are labelled with an expiration date of 1998. The supposedly spoiled food was enough to put off some of the teens, but most of them completely devoured it.
At the end of it all, Refugee Norway seems to successfully get its point across – that refugees face physically and emotionally grueling obstacles, and that the teens are lucky to live in one of the world's richest countries.
"Horribly tough," said Ebbe Marienborg Schieldrop, a teenager playing the role of a father in his group. "It's obviously much worse for real refugees, but the hunger, the fatigue, all of it... it's exhausting."
And although the experience is anything but easy, Refugee Norway found Kenneth Johansen said the program is effective because it is "learning by doing."
"If you read about refugees, you'll remember about 20 percent. And if you experience it, you'll remember 80 percent. You will learn it for the rest of your life," he said.
The organization's deputy head, Lasse Moen Sørensen, also praised the program, saying it allows teens to "leave with a little extra soul."
Though it may seem the organization created the experience in response to Europe's refugee crisis, that isn't the case. In fact, the program was developed in 2004, and since then some 80,000 youths have undergone the experience.
But still, the experience only lasts a day – something that Johansen hopes the teens will be grateful for.
"...That's what 60 million real refugees are living through everyday," he tells the teens at the end of the experience. "For you, it was a game. For them, it's hell on Earth everyday."
You can share this story on social media: