Aleppo humanitarian pause extended by 24 hours – Russian Defense Ministry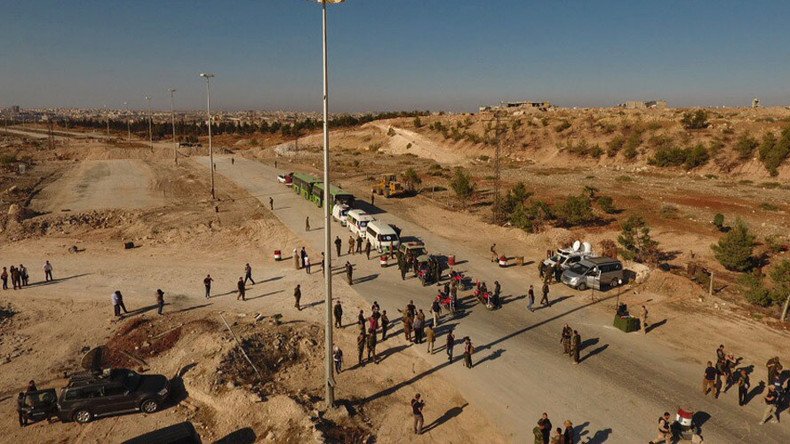 Russia has decided to extend the humanitarian pause around Aleppo, Syria, for another 24 hours, the Russian defense minister has said. Militants killed 14 local officials and wounded three Russian officers on the first day of the pause.
"On an order from the commander-in-chief of the Russian military, Vladimir Putin, we have decided to extend the humanitarian pause for one more day. The extension of the humanitarian pause in Aleppo was supported by the leadership of the Syrian Arab Republic," Sergey Shoigu said.
Three Russian military officers were lightly wounded when militants opened fire targeting a humanitarian corridor leading from Aleppo, near the El-Masharka government checkpoint, the Russian Center for Reconciliation reports.
"Their lives are out of immediate danger," the center stated.
Inside Aleppo, Ahrar ash-Sham militants publicly executed 14 local officials for calling on locals to leave the western part of the city, the center also reported.
Eight wounded militants left Aleppo via one of the humanitarian corridors on the first day. According to the Center for Reconciliation, they were provided medical aid, fed and delivered to an area under rebel control.
This week, Russia paused its joint offensive with Syrian government troops on eastern Aleppo, which is held by an assortment of armed groups, including Al-Nusra Front, an Al-Qaeda offshoot. The goal is to allow people wishing to leave the city to do so, including both civilians and militants, who were offered separate corridors to leave Aleppo with their arms.
Moscow wants to curb casualties and damage to the rebel-held part of the city, and to allow the level of violence to be reduced in the hope of an eventual ceasefire.
United Nations Secretary General Ban Ki-moon hailed the "humanitarian pause" enforced by the Russian and Syrian military in Aleppo, saying that it "helped pave the way for the implementation of the UN's medical evacuation plan." Ban, who was speaking at an informal UN meeting on Syria on Thursday, also noted that the pause in the fighting was "far from enough," saying that the Syrian government must ensure full humanitarian access to rebel-held eastern Aleppo and agree to ground its air force over the city, while the terrorists must be "isolated."
Washington and its allies accuse Russia of indiscriminate attacks on civilian targets in eastern Aleppo, claiming they amount to war crimes. Moscow denies the allegations and says the US is at least partially to blame for the continued violence. The Americans failed to force 'moderate rebels' to stop mingling with terrorist groups and observe a ceasefire brokered by the US and Russia last month, Moscow said.
You can share this story on social media: