Hundreds of Lesbos residents & refugees march against EU border policy (VIDEO)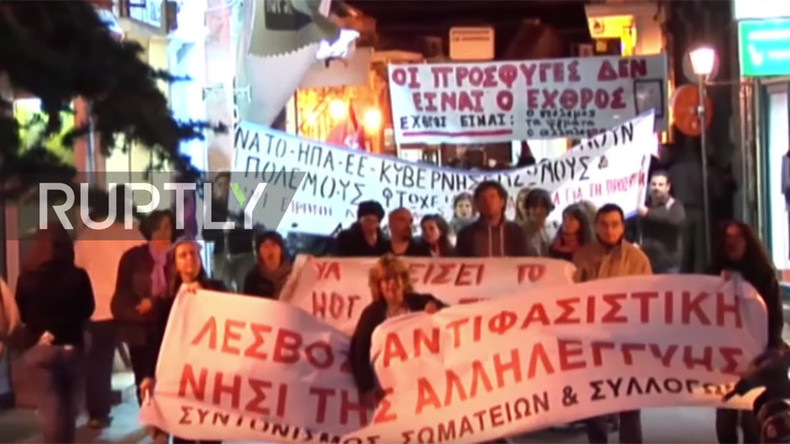 Refugees stranded on the Greek island of Lesbos have joined forces with local residents to protest against the EU's "insufficient" border policy. The island's mayor says thousands of migrants are languishing in frustration, and puts the blame on Brussels.
Hundreds of residents and migrants took to the streets on Tuesday night to protest the European Union's refugee policy, a video by RUPTLY showed. The protest, which largely passed off peacefully, involved people holding banners with slogans accusing Brussels of turning the island into a "hotspot."
Current moods on the island reflect those of the Greek establishment. Speaking at a press conference in Brussels, Spyros Galinos, the Lesbos mayor, said the EU-Turkey deal sealed in March was only adding to the problem of the overwhelming number of refugees staying on his island.
"The deal prohibits the relocation of these people [from their point of entry in the EU]. This is completely absurd and needs to be fixed," he said, as quoted by the Anadolu news agency.
Later, he suggested that a network of small hosting facilities for refugees be created first in Greece and then all across Europe, according to Athens-Macedonian News Agency.
"There are some thousands of municipalities, so if each one of them had a small facility, we could face the problem without substantial burden on our societies and halt racist and fascist voices," he noted.
At the same press conference, broadcast by the European Commission's EbS channel, European Parliament Vice President Dimitrios Papadimoulis said that his home country, Greece, still carries the burden of caring for almost 60,000 refugees with almost no help from the EU. According to officials, 6,000 of them are in Lesbos.
"We say that people are not numbers, but sometimes numbers say a lot about people, especially when we are talking about thousands of people fleeing war with their families," he said. "Europe has to live up to its responsibilities and help."
Meanwhile, in a report released on Thursday, Doctors Without Borders (Medecines Sans Frontieres/MSF) said refugees at Greece's camps are still living in mostly "appalling conditions" with poor access to healthcare.
MSF says the most vulnerable people include pregnant women and people with mobility problems, while the conditions of mental health patients have been described as "dire."
Tuesday's rally stands out as including both locals and migrants. Previously, Lesbos has seen a number of violent demonstrations, with residents demanding to move refugee camps from the island.
Arson attacks on the camps have also taken place in recent weeks. In late September, a massive fire swept through a camp that accommodated around 4,000 refugees.
Syrian children 'stripped, abused' in Greek detention for carrying toy guns – Amnesty

Prior to the fire, the compound had seen two separate protests, one staged by a group of migrants and another by local residents, according to AFP.
Greece, still struggling with Brussels' austerity policy, is currently housing over 60,000 refugees, located on several islands. Lesbos hosts one of the camps, but the facility was previously criticized by rights groups for being overcrowded and suffering from unsanitary conditions.