Soyuz spacecraft with 3-man crew blasts off to Intl Space Station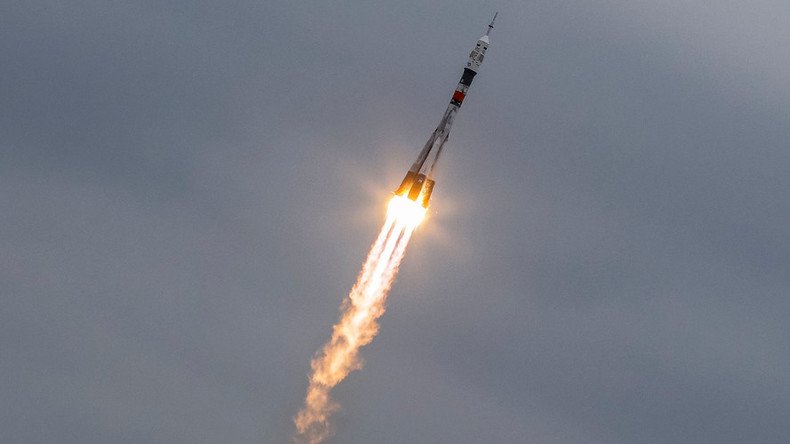 A Soyuz MS-02 has taken off from the Baikonur cosmodrome, taking two Russian cosmonauts and a US astronaut to the International Space Station (ISS).
The crew includes Sergey Ryzhikovand and Andrey Borisenko, as well as NASA's Robert Shane Kimbrough.
The Soyuz reached orbit just nine minutes into the flight, while the ship's journey to the International Space Station (ISS) is expected to take two days.
The new two-day flight plan aims at testing all systems of the new space craft, according to Russia's space agency Roscosmos.
The spacecraft is expected to dock at the station's Russian module, 'Poisk,' on October 21 at approximately 12:59 pm Moscow time.
It is the first trip into orbit for former Russian Air Force pilot Ryzhikov, 42, the commanding officer of the crew. The flight engineer, Borisenko, 52, who is also an Air Force pilot, has already been on one space mission, which lasted from April to September of 2011.
The 49-year-old NASA astronaut Kimbrough was a crew member on the Endeavor mission of 2008. As a former US Air Force pilot, he took part in the 1991 Gulf War, flying an Apache AH-64 attack helicopter.
The Soyuz MS is the latest and most advanced version in the Soyuz TMA family. It features modernized communications and navigation systems, and also has more efficient solar panels, which will significantly increase its energy performance.
The upgraded Soyuz MS carried out its latest mission earlier in July, with crew commander Anatoly Ivanishin, Japanese flight engineer Takuya Onishi, and NASA's Kate Rubins on board.
The Soyuz MS-02 is also bearing relics of Seraphim of Sarov, one of the most renowned monastic figures in Russian Orthodox history, into space. They will be returned to Star City's church after the mission.
You can share this story on social media: