ISIS in Mosul may use chemical weapons & 1,000s of civilians as human shields – IOM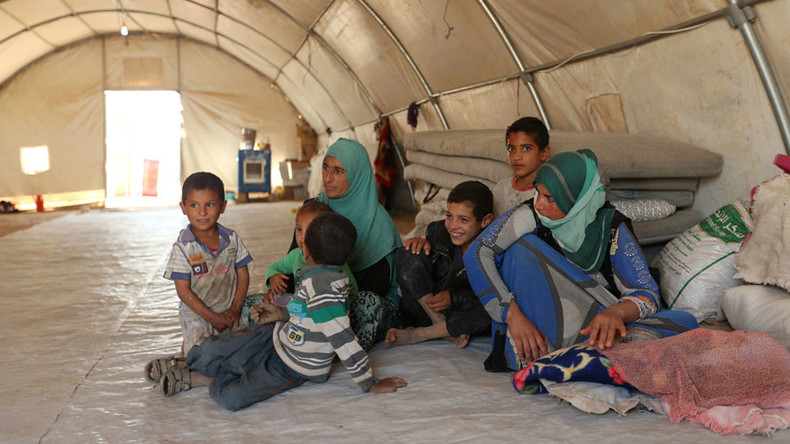 The International Organization for Migration (IOM) has sounded an alarm amidst the carnage surrounding the recapture of Mosul, Iraq, where there are fears Islamic State militants will unleash chemical attacks and use tens of thousands as human shields.
Meanwhile, contingency plans are being implemented at national and international levels. Speaking by phone, IOM's chief of mission for Iraq, Thomas Weiss, told Reuters there are forecasts that the offensive will cause displacement on a massive scale, as the Iraqi military has now reached the outskirts of Iraq's second largest city.
"Tens of thousands of people may be forcibly expelled, they will be getting trapped between fighting lines under siege, they may be even held as human shields," he said, as cited by Reuters.
Weiss added that IOM staff have been stocking up on gas masks since rumors began circulating about an imminent gas attack, but they've found few so far. "We also fear, and there has been some evidence that ISIL (Islamic State, IS, formerly ISIS) might be using chemical weapons. Children, the elderly, disabled, will be particularly vulnerable," he said.
Still, according to the White House, holding back on an all-out assault on Mosul would prove to be detrimental, and would not save lives.
"I think the first thing for us to acknowledge… is that, while ISIL has been in charge of Mosul, they have engaged in a violent campaign to bring that city under their control. They're killing civilians all the time," Josh Earnest told a press briefing. "So, the idea that we – that somehow the Iraqi security forces – should delay the operation because of their concern or the humanitarian situation in Mosul, that doesn't make sense."
Earnest went on to say that coalition forces will nonetheless work to save as many lives as possible, while bringing up the UN's earlier announcement that it was undertaking measures to address "significant or widespread humanitarian concerns." Tents have reportedly been set up, and there is "a lot of planning" to provide food, water and other essential items to people fleeing the conflict zone, Earnest said.
Others at a national level have also been looking at contingency measures, like France, which will hold a meeting on October 20 to discuss stabilizing Mosul after the fighting.
"For Raqqa, a similar method will be needed to Mosul. It will take time and political will, but we have to organize ourselves," Foreign Minister Jean-Marc Ayrault told a diplomatic press briefing on Tuesday. "We can't let Islamic State reconstitute itself or strengthen to create an even more dangerous hub. We have to prepare ourselves," he added.
The new offensive has also sparked warnings and speculation as to how IS may react once Mosul is done – whether it will spread to other parts of Syria, or whether the fall of the city will precipitate a mass exodus of militants to Europe.
"As far as I know, the city is not fully encircled," Russian Foreign Minister Sergey Lavrov said on Tuesday. I hope it's because they simply couldn't do it, not because they wouldn't do it. But this corridor poses a risk that Islamic State fighters could flee from Mosul and go to Syria.
The Russian FM's remarks come just as the Syrian government said it is certain that the US-led coalition is planning to let IS fighters slip through.
"We will be evaluating the situation and take decisions of both political and military nature if this happens," Lavrov added. "I hope the US-led coalition, which is actively engaged in the operation to take Mosul, will take it into account."
The battle is now in its second day, and there are already unconfirmed reports of militants securing deals to flee the city among the civilians.
Islamic State seized Mosul in June of 2014, when it was Iraq's second-largest city. The terror group's leader then turned it into a major military stronghold, and it is believed that between 4,000 and 8,000 IS militants are entrenched there, according to Reuters.
You can share this story on social media: