Nobel Prize panel gives up trying to reach Bob Dylan after his unprecedented win for literature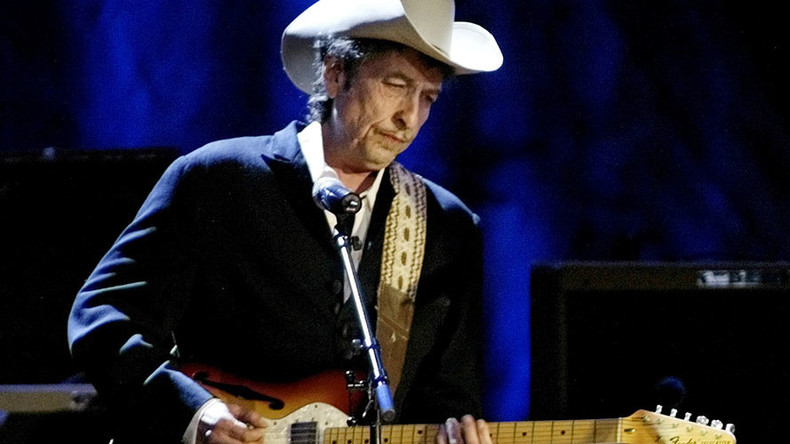 Some people dream of winning the Nobel Prize, but Bob Dylan doesn't seem to be particularly bothered about it. The Swedish Academy says it has given up trying to reach the songwriter, after awarding him the prize for literature last week.
"Right now we are doing nothing. I have called and sent emails to his closest collaborator and received very friendly replies. For now, that is certainly enough," the academy's permanent secretary, Sara Danius, told Swedish state radio.
The American singer/songwriter was awarded the Nobel Prize for Literature on Thursday. Though Dylan gave a concert in Las Vegas on the same day, he failed to mention the achievement. His official Twitter account has re-tweeted congratulatory tweets, however, including one from US President Barack Obama.
Dylan is invited to Stockholm on December 10, along with his fellow winners, to receive his award from King Carl XVI Gustaf and make a speech at the banquet.
It remains unknown whether he actually plans to attend the event, however. To quote a famous Dylan song, that answer appears to be 'Blowin' in the Wind.'
"If he doesn't want to come, he won't come. It will be a big party in any case and the honor belongs to him," Danius said.
Still, Danius remains optimistic that Dylan will accept the invitation.
READ MORE: Bob Dylan awarded Nobel Prize in Literature for creating 'new poetic expressions'
"I am not at all worried...I think he will show up," she said.
Dylan is the first songwriter to win the prize for literature, which has sparked some controversy, as many believe it should have been given to a literary great, rather than a musician.
In addition to his newly awarded Nobel Prize, Dylan has taken home 11 Grammy Awards, a Golden Globe Award, and an Academy Award over the course of his career. He also received a Presidential Medal of Freedom from President Obama in 2012, and is a member of the Rock and Roll Hall of Fame and the Songwriters Hall of Fame.