Al-Nusra must either leave Aleppo or be defeated – Russia's UN envoy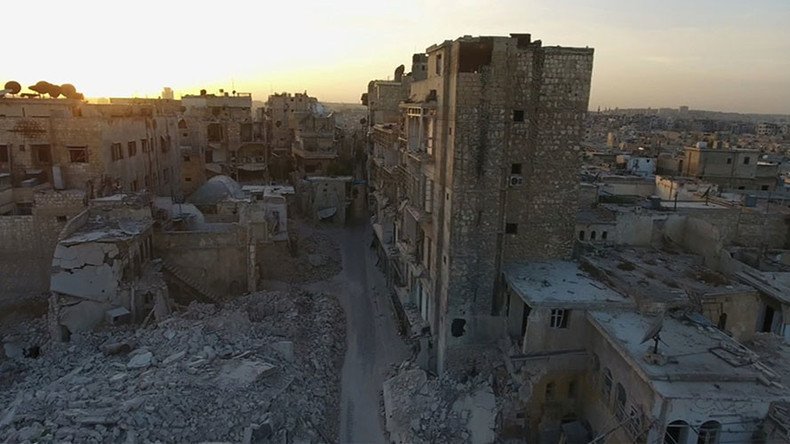 If rebels in eastern Aleppo break from Al-Nusra Front militants, the latter must face leaving voluntarily or be annihilated, Russia's envoy to the UN said, adding that the 8-hour ceasefire on October 20 can be extended, but only if various sides agree.
Speaking in the wake of the UN Security Council meeting on Monday, Russia's permanent ambassador to the UN, Vitaly Churkin, said that Russia is ready to grant Jabhat Fateh al-Sham, formerly known as Jabhat Al-Nusra, fighters in eastern Aleppo an opportunity to leave the city unharmed if the so-called moderate rebels agree to clearly distance themselves from the hardline Islamist group.
However, if they refuse to abandoned their positions in Aleppo, they should get ready to be wiped out, Churkin said.
"If they ['moderate' opposition] distance themselves, then we will offer Jabhat Al-Nusra two options to choose from: either they leave the city, and Steffan de Mistura, [UN special envoy for Syria], as you know, came out with a proposal regarding this some time ago, which has not been accepted by Jabhat Al-Nusra yet, or we will have to defeat them," Churkin said, as cited by TASS.
The diplomat was referring to de Mistura's earlier proposal to personally accompany some 900 Al-Nusra fighters that are estimated to still retain positions in the rebel-held eastern Aleppo, on their way out from the city to other parts of Syria.
If that scenario is implemented, it will mean the end of bloodshed in Aleppo on condition that all other armed groups representing "moderate" opposition enter into ceasefire agreements with the Syrian government following Al-Nusra's exit, Churkin said.
READ MORE: Aleppo trap: Rebel-held East on lockdown, civilians blocked off from govt-controlled areas
Meanwhile, New Zealand submitted its draft resolution on Aleppo to the UN Security Council on Monday. The document calls for the immediate and complete end of attacks that can affect civilian infrastructure or result in civilian casualties. It also stipulates 48-hour pauses in fighting to enable humanitarian aid deliveries and underscores the need to separate the opposition from UN-recognized terror groups in Aleppo.
"It's an interesting effort, we will definitely look into it," Churkin said.
The chances of this plan succeeding are quite reasonable if the so-called "moderates" greatly outnumber Al-Nusra fighters, Churkin said. The ratio can be as high as 10 to 1 or even 12 to 1, if estimates of somewhere between 10,000 and 12,000 moderate rebels in Aleppo provided by the UK's Foreign Office are accurate, the diplomat added.
READ MORE: Terrorists & their paymasters hold Aleppo civilians as human hostages – VA senator

The meeting, at which the member states' representatives discussed the outcomes of Saturday's talks between Russian Foreign Minister Sergey Lavrov, US Secretary of State John Kerry and seven Arab nations in Lausanne, was in general "much more pragmatic" than in the past few weeks, Churkin said.
Although no major breakthrough was achieved in Lausanne, it gave a much-needed impulse to advance the stalled Syrian peace process.
"The discussion was focused on [using] the momentum of Lausanne and moving forward, both in terms of trying to renew the ceasefire regime, increase humanitarian aid to Syria, in particular, around Aleppo, and attempting to advance the political process," he said, as cited by RIA Novosti.
While top Russian and American diplomats failed to put Syria's peace process back on track, Russian and Syrian armed forces on Monday announced they would unilaterally halt all military operations on Thursday, October 20, to enable evacuation of the injured as well as the unhampered withdrawal of civilians and militants from the city.
For this "humanitarian pause" to be extended further, however, Russia will seek reciprocal action in form of some "mutual agreements," Churkin said.
"We announced the 8-hour [ceasefire] unilaterally. I think that a longer pause, for instance a 48-hour or 72-hour [truce], will require some mutual agreements," he said.
You can share this story on social media: