Moscow on Lausanne talks: Operation against terrorists in Syria to continue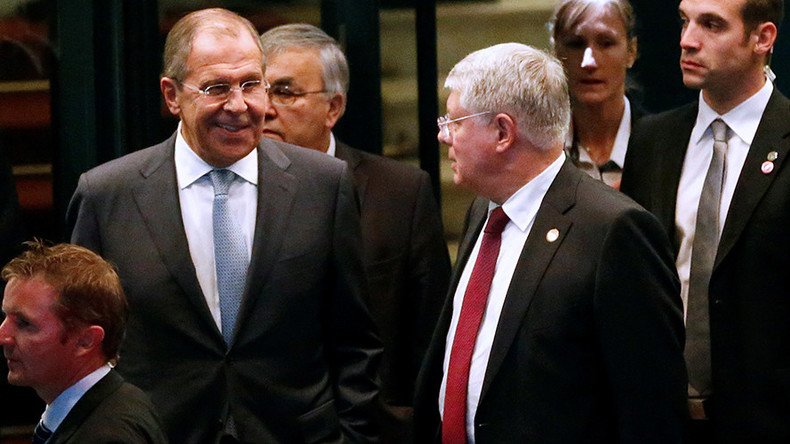 The operation against terrorists will continue, Russia stressed in Lausanne during international talks on Syria. The shaky ceasefire deal will only work if the "moderate" opposition distances itself from Al-Nusra and other terrorist groups, Moscow added.
Russian Foreign Minister Sergey Lavrov and US Secretary of State John Kerry met behind closed doors in Lausanne, Switzerland along with seven foreign ministers, from Iran, Iraq, Saudi Arabia, Turkey, Qatar, Jordan, and Egypt.
Four hours of discussions ended with no visible breakthrough. The participants have agreed to continue work on solving the crisis, however.
According to the Russian Foreign Ministry, all participants present at the meeting confirmed their commitment to "preserve Syria as an integral, independent and secular state, in which the future of the country is determined by the Syrians themselves in an inclusive political dialogue."
The Russian side emphasized that the "key to the reestablishment and successful implementation of the ceasefire and securing humanitarian access to those in need is disassociating units of the"moderate" opposition from the Jabhat Fateh al-Sham (formerly known as Al-Nusra Front) militants and other affiliates with its terrorist groups," the Russian Ministry of Foreign Affairs said in a statement, adding that this will require "appropriate work of all participants of the meeting with the forces present in Syria. It should be understood that the operation against Islamic State (IS, formerly ISIS, ISIL) terrorists and Jabhat Al-Nusra will continue."
The US has long promised to separate the rebels from terrorists. An Al-Nusra commander revealed in a recent interview that the group has been receiving outside support, including American weapons.
Moscow has repeatedly insisted that any peace plan for Syria, and in particular Aleppo, will not bear fruit until the US-backed rebels clearly distance themselves from Al-Nusra.
Lavrov said last week that Russia can't see that the US is seriously fighting militants from the terrorist group in Syria, adding that, though American fighter jets make a lot of flights, they don't hit many targets.
Moscow "doesn't see any evidence that the US is seriously battling Al-Nusra [now known as Jabhat Fateh al-Sham]," Lavrov said in an interview aired on Channel One Russia, adding that Moscow is suspicious about Washington's calls to cease bombing runs against terrorists in Aleppo.
"It's also suspicious that they call on us and the Syrian Air Force not to fly over Aleppo because, yes, the main force of Al-Nusra Front is there, but there are also allegedly representatives of the 'moderate opposition,' who are surrounded and have nowhere to go except to Al-Nusra," Lavrov said.
"So don't touch Al-Nusra, because it is not humane in relation to the normal guys ['moderate opposition'], and we will fight Al-Nusra later," Lavrov said, as if mimicking Washington officials.
"And this 'later' never comes. [Washington] promised to separate these normal guys from Al-Nusra back in February," he noted.
You can share this story on social media: