2 Sydney teens charged in botched 'imminent ISIS-inspired attack'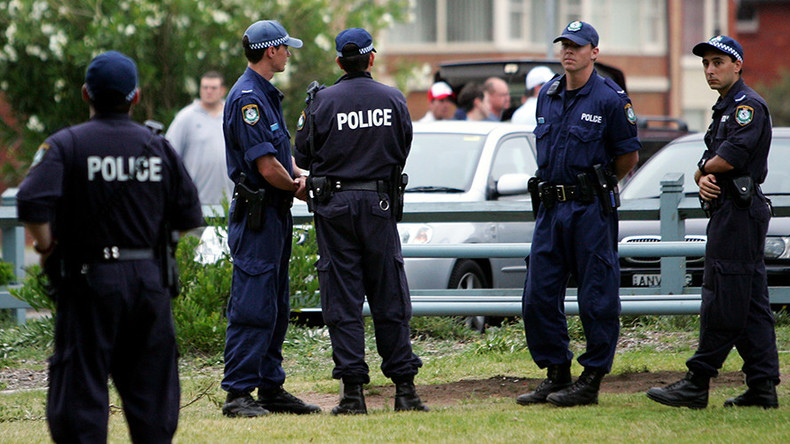 An "imminent" terror attack allegedly inspired by Islamic State was prevented in Australia, Sydney, authorities claimed after arresting and charging two 16-year-old boys with plotting a knife assault.
Two teens were arrested by a counter-terrorism unit on Wednesday at a prayer hall in Sydney's Bankstown, after they allegedly purchased the "bayonet-style" knives from a nearby gunshop. The charges were filed on Thursday, although the specific target of the planned attack remains unknown.
"We did prevent what we would suspect was going to be an attack," Deputy Commissioner of New South Wales Police Catherine Burn said. The authorities believe that the alleged attack was imminent.
"Had we not been in the right place at the right time ... certainly somebody, potentially today, would be, or another day imminently, would be without their life," AFP Deputy Commissioner Michael Phelan told local media on Thursday.
The teens were charged with planning an act of terror and being members of Islamic State (IS, formerly ISIS/ISIL). Such crimes could result in a lifetime behind bars.
"The events of yesterday are particularly sobering for all of us, particularly given the age of these individuals," Phelan added.
The police did not disclose how long for or by whom the boys were radicalized.
"I think they had potential radicalization from potentially radicalized peers," Burn said.
Authorities said they were "well-aware" of the boys, and closely watched them. This helped to prevent the alleged attack. Police raided four proprieties after the arrest, including the prayer hall and various homes.
READ MORE: 19yo Australian 'kangaroo bomb' plotter sentenced to 10 yrs
Australia recently faced a surge in terrorism threats, including from underage terrorism.
According to government officials, six attacks have been foiled over the past year in the country and some 44 suspected terrorists have been charged since September 2014. In light of the increasing terrorism threat, Australia has been tightening its security.
A new law criminalized travel to IS strongholds in Syria and Iraq. In September a new bill was introduced into the Australian parliament, proposing the indefinite detention of terror convicts and charging children as young as 14 as adults over terrorism.
"Regrettably, children as young as 14 have been involved in terrorism-related activities. This Bill recognizes this reality and the need for appropriate safeguards," Australia's Attorney-General, George Brandis said as he introduced the bill.