Parents in majority Muslim region of China banned from 'luring' children into religion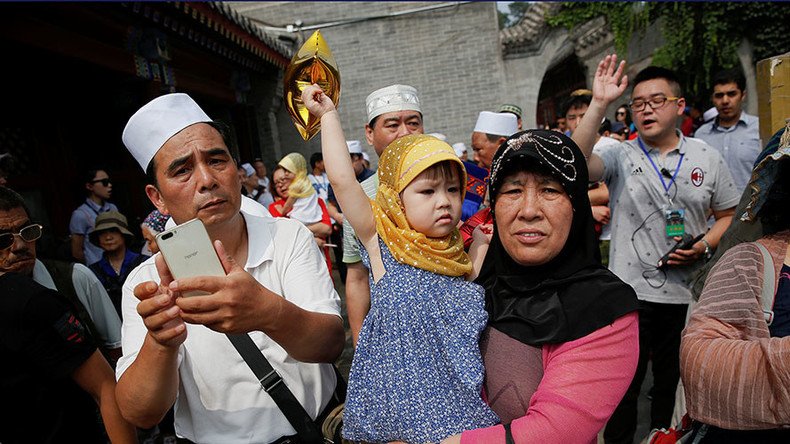 In a bid to curb Islamic extremism, the Chinese government has announced that parents in a majority Muslim region will be reported to the police if they encourage or force their children into religious activities.
The new rules for Xinjiang, scheduled to come into effect on November 1, explicitly state that parents and guardians cannot "organize, lure, or force minors into attending religious activities," Xinjiang Daily reported, as quoted by Reuters.
In addition, parents are forbidden from promoting extremist beliefs in children and forcing them to dress in extremist clothing or symbols. The new law encourages ordinary citizens to look out for such activities.
"Any group or person has the right to stop this kind of behavior and report it to the public security authorities," the government said in the rules.
The rules also forbid any form of religious practice in schools.
If parents cannot protect their children from extremism and terrorism, and students cannot stay at existing schools, parents must apply to have them go to specialist schools for "rectification."
Schools, in turn, are being made responsible for steering students away from separatism and extremism in order to create an atmosphere that "esteems science, seeks the truth, refuses ignorance [and] opposes superstition."
The province of Xinjiang, bordering Afghanistan and home to the mostly-Muslim Uyghur people, has been a source of violence in China. Some of the extremist Muslim Uyghur groups based there are considered terrorists in China, and actively stand against the Chinese government.
In August this year the group was behind an attack on the Chinese embassy in Kyrgyzstan. A suicide bomber, an Uyghur, was the only fatality in the incident. The 2015 Bangkok bombing which killed at least 20 people was also allegedly traced back to Uyghur militants.
READ MORE: Muslim communist theme park set for China to bolster ties with Middle East
Uyghurs claim they are being restricted in matters of culture, religion and economics, in favor of the majority Han Chinese flooding into the region. Some Uyghur campaigners have ended up in prison.
The Chinese government denies any abuses against Uyghurs, saying their legal, cultural and religious rights are fully protected.
While Chinese law supports freedom of religion, it does not allow minors to practice religious activity. To ensure this, authorities have cracked down on underground Muslim schools in Xinjiang in recent years.
Located in China's northwest, Xinjiang has a population of around 21 million people, 45 percent of which are Uyghurs. Fifty-eight percent of the population is Muslim, according to a 2010 analysis.
You can share this story on social media: