Sarkozy blasts 'irresponsible' Hollande after Putin cancels visit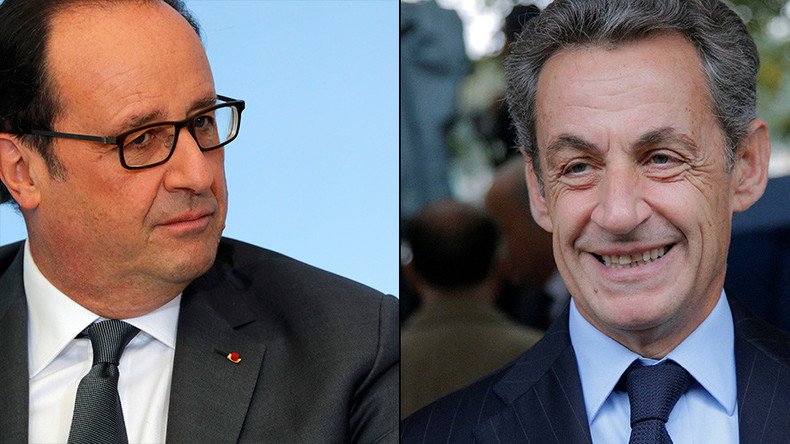 Former French President Nicolas Sarkozy has joined a chorus of French politicians sharply criticizing the incumbent Francois Hollande for escalating tensions with Russia, following Vladimir Putin's decision to cancel a diplomatic visit.
"I do not approve of the current policy towards Russia. I have disagreements with Putin, but it is France's and Europe's responsibility – and it is in their interest – to conduct a dialogue with Russia," said Sarkozy during a rally in Haute-Savoie in the east of the country on Tuesday.
On Monday, Hollande called on the International Criminal Court to investigate Russia for potential war crimes in the Syrian city of Aleppo. Hollande's office also announced that he would not join any pre-planned joint activities with Putin during next week's scheduled trip, other than a session to discuss Syria.
Following the rebuke, Putin announced that he would reschedule the trip for a time that is "more convenient for President Hollande."
"How can we hope to change the situation if we only communicate through statements, take offense, and seek to enter a new Cold War? This is irresponsible," said Sarkozy, who is campaigning in the Republican primaries for the right to stand in next year's presidential election.
"The purpose of diplomatic battles is to hold a discussion, to find an understanding. In this regard, the canceled visit is a very poor outcome," continued the center-right politician.
Meanwhile, the other French politicians lashed out at President Hollande's relations with Russia. Former French Prime Minister Francois Fillon said that President Hollande allowed the Kremlin to make a joke of him and would remain in history as the one who "discredited foreign policy of France."
Avec ses errements sur la crise syrienne, François #Hollande restera le président qui a décrédibilisé la politique étrangère de la France.

— François Fillon (@FrancoisFillon) 11 октября 2016 г.
Jean-Frederic Poisson, a deputy of the National Assembly of France from the Christian Democratic Party, said that Hollande's actions disrupted Russia-EU relations instead of maintaining the dialogue.
"I don't understand the position of the French President Francois Hollande. My opinion is that in the time being we, on the contrary, need to strengthen the relationships between the European Union on the one hand and Russia on the other hand. It does not mean that we compulsorily have to agree on the every point of the foreign policy of Russia, neither that Russia has to agree on our foreign policy. But at least [we need] to maintain the conversation, if I may say so, between the great countries that are France and Russia. And it's being disrupted," Poisson told RT.
According to Poisson, "the French socialists do not clearly understand what's going on in the Middle East and especially in Syria," and are making the situation in the region increasingly unpredictable and dangerous.
"And I fear the trouble that is increasing between Russia and France is the source of a risk, of a greater risk in the region of the Middle East," he added.
Meanwhile the head of defense affairs with the French Left Party Djordje Kuzmanovic believes that Francois Hollande "is not a very strong president" and he has already showed his inability to act independently, as in the scandal with the plane of Evo Morales, the President of Bolivia.
"Mr. Hollande, our president, is not a very strong president. He's even quite weak, and he's really easy to influence … regarding what is going on in the Middle East right now, regarding the agenda of the United States maybe, and it's a strong possibility, that Mr Hollande received a direct order from the US not for seeing Putin on October 19," Kuzmanovic told RT.
"Of course for bilateral relations it's not very good. We have already strong problems between Europe and Russia, especially between France and Russia after the problems in Ukraine. And continuing to push into something that would be more problematic is not quite wise from Mr. President Hollande. And that's a big problem because Russia is and should be a partner of France and Europe and we should not try to construct, to build enmities between our countries," Kuzmanovic added.
You can share this story on social media: