'US lackey': French politicians blast Hollande for reluctance to meet with Putin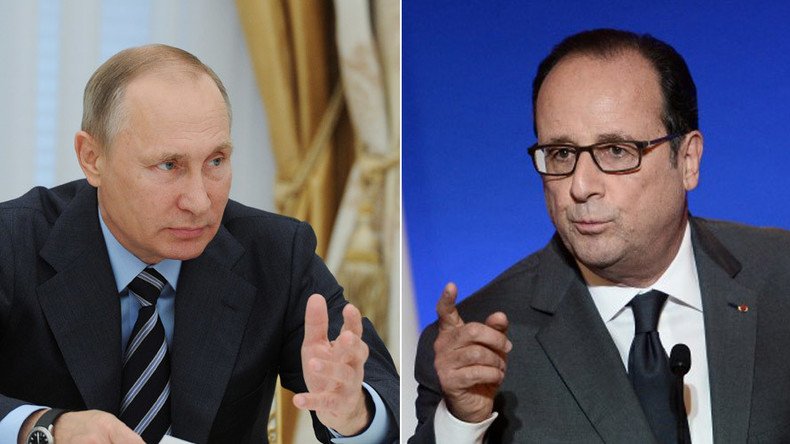 French politicians sharply criticized French President Francois Hollande for remarks, in which he said he was uncertain whether he should meet with his Russian counterpart Vladimir Putin in light of the situation in the Syrian city of Aleppo.
On Sunday, Hollande told France's TMC Channel that was uncertain whether he should receive his Russian counterpart Vladimir Putin during his forthcoming visit to Paris.
"I asked myself the question ... Is it useful? Is it necessary? Can it be a way of exerting pressure? Can we get him to stop what he is doing with the Syrian regime?" Hollande told TMC on Sunday, adding that he "asks himself if he has to receive Vladimir Putin."
"If I receive him, I will tell him that [what Russia does in Aleppo] is unacceptable," he said, describing Russia' campaign in Aleppo as a "war crime."
"Those who commit these acts will have to pay for their involvement, including at the International Criminal Court," he added.
The president's comments provoked a wave of criticism and condemnation from a number of French politicians. Former French Prime Minister Francois Fillon lashed out at Hollande for his reluctance to meet with Putin and stressed that dialog between France and Russia is "indispensable".
"Of course, he [Hollande] should receive the Russian president," he said in an interview with radio station Europe 1, adding that "this dialog [between France and Russia] has been indispensable for four years already."
"Francois Hollande himself announced that he will propose the creation of a broad anti-terrorist coalition, including Russia, as he gave a speech in the [National Assembly] after the Paris terror attacks but this [idea] was somehow abandoned," Fillon told Europe 1.
Nicolas Dhuicq, a French MP and a member of the Republican Party called the president's position "absolutely counterproductive" and said that his statement is "an insult to Russia."
"The French head of state as well as the French government absolutely lack political culture as well as political foresight," Dhuicq told RT, adding that such behavior contradicts the interests of both Europe and Russia.
He also called the present situation "absurd, useless and ineffective," stressing that the European establishment is "fully dependent on the US foreign policy."
His words were partly echoed by another French MP, Thierry Mariani, who is also a member of the Republicans. Mariani called Hollande "a US lackey," who led French foreign policy into a "deadlock."
"I ask myself a question, if French foreign policy even exists. I increasingly get the impression that we [France] are the [US] State Department's appendix, or [if] French foreign policy is nothing but an exact copy if the belligerent US foreign policy."
Damien Lempereur, a board member of the France Arise Party (Debout la France, DLF), called Hollande's statement "a mistake of the French president," adding that "there is absolutely no reason not to receive the Russian president."
The French president's words were echoed by French Foreign Minister Jean-Marc Ayrault on Monday, who told France Inter radio that Hollande would decide whether or not to meet with Putin "in light of the situation in Aleppo and Syria."
"If the president decides that the Russian president is coming it will not be to exchange pleasantries, it will be to speak the truth," Aurault said.
He added that "these bombings – and I said it in Moscow – are war crimes," referring to a meeting with his Russian counterpart, Sergey Lavrov on October 6.
At the same time, Ayrault said that Russia remains "a partner" of France.
Meanwhile, Putin's spokesman, Dmitry Peskov said on Monday that the Russian president still plans to visit France and meet Hollande.
"Preparation for Putin's upcoming visit to Paris continues," he told Russian media, adding that the French side had not yet informed Russia about any changes in their plans.
Vladimir Putin is due to visit Paris on October 19 to participate in the opening of a new Orthodox church next to the Eiffel Tower. On October 6, Sergey Lavrov also announced that the Russian president will meet his French counterpart and discuss the situation in Syria and Ukraine.
Syrian crisis is result of Europe's refusal to cooperate with Russia – Fillon
Meanwhile, Francois Fillon also said that the root cause of the ongoing Syrian crisis lies particularly in Europe's "great errors" in assessing the real situation in Syria as well as in its inaction and refusal to cooperate with Russia and the Assad government.
"We [Europe] imagined that there is a moderate [opposition] camp, which was going to establish democracy in Syria. However, in fact, the situation in the country can be controlled either by Bashar Assad or by fundamentalists of Islamic State (IS, formerly ISIS/ISIL)," he said, adding that "there is nothing in-between."
The French politician also emphasized that the situation in Syria now requires coordinated efforts by all world powers as well as a meaningful dialog between them being necessary.
"What happens now in Aleppo is a crime, it is awful and should be condemned in strongest terms. However, it is also a result of our weakness, our inability to understand the implications of the Syrian crisis," he told Europe 1, adding that it is a result of "Europe's silence and refusal to engage in a dialog with Russia, when it was still possible."
You can share this story on social media: