'Routine force & isolation': Australian commission begins into treatment of juvenile detainees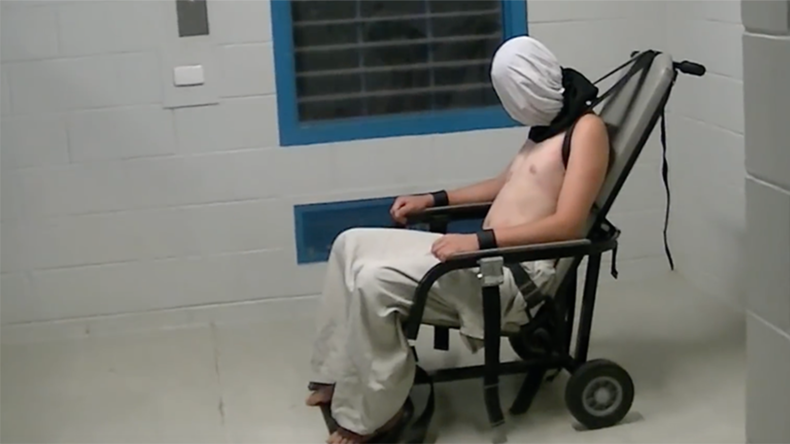 A commission has begun into the treatment of juveniles at Don Dale Detention Centre in Australia's Northern Territory. One witness claims the use of force and isolation is "routine." It comes after violent footage from the centre sparked national outrage.
The commission was called by Prime Minister Malcolm Turnbull in July, after the Australian Broadcasting Corporation (ABC) showed CCTV video of minors being detained at Don Dale Youth Detention Centre in Darwin, which houses mostly indigenous juveniles.
One detainee, Dylan Voller, was shown tied by his ankles, wrists, and neck in a restraint chair for almost two hours.
Tuesday marked the first day of proceedings for the commission, which has been tasked with examining 10 years of policy and practice regarding child protection and detention in the Northern Territory.
Among the witnesses speaking on Tuesday was the Human Rights Commission children's commissioner, Megan Mitchell, who recalled a visit to Don Dale. She said the use of force and isolation were routine at the centre.
READ MORE: Australia's Abu Ghraib outrage: Kids teargassed & stripped naked at detention center (GRAPHIC VIDEO)
"It was clear that use of isolation was routinely and frequently used and for very long periods of time, and when I say frequently and routinely, I mean 23 hours a day for several weeks," she said.
"It was also clear that the use of force was routinely used as part of the everyday business of the facility, not just when there was an incident," she added, stating that she believes "all of those things are breaches of children's rights."
Mitchell, who condemned the use of restraint devices on children, went on to state that violence by prison staff has a negative impact on juveniles, as there is a risk that it normalizes violence for them.
The children's commissioner also claimed that the facility is not air-conditioned, which further worsens the situation for juvenile detainees.
But Northern Territory Solicitor-General Sonia Brownhill disputed that statement, claiming the centre's "classrooms are air-conditioned and the air-conditioning is on when the children are in there."
In response, Mitchell once again stressed that "there was no air-conditioning in high-security at all. Maybe it wasn't turned on, but certainly there was no air-conditioning in that area… it was really hot and stifling…"
Mitchell concluded that rather than trying to improve juvenile detention facilities, "the best alternative is for them not to go there at all."
"We really need to be working hard to find other alternatives in the community. Now that doesn't mean your actions don't have consequences. You can be supervised in the community," she said.
A small crowd gathered in front of Darwin's Supreme Court building during the hearing to demand justice for those who have allegedly been mistreated at the facility.
Another crowd gathered in Alice Springs, Northern Territory.
The first round of hearings will continue on Wednesday and Thursday. Further hearings are scheduled for every month from now to March.
Although the commission is not focusing specifically on Aboriginal and Torres Strait Islanders, 94 percent of juvenile inmates in the Northern Territory are made up of Australia's indigenous population, despite the community making up just three percent of the country's overall population.
READ MORE: Indigenous inmate dies in Australia after fight with prison guards leaves him 'brain dead'
Australian authorities continue to find themselves in the spotlight for alleged racist treatment of the country's indigenous population. Just last month, an indigenous inmate died after a fight with prison guards reportedly left him brain dead. An investigation has been launched into the inmate's death, with his family accusing prison officials of having "dirt on their hands."