China may deploy 'baby reactors' to South China Sea islands in five years – report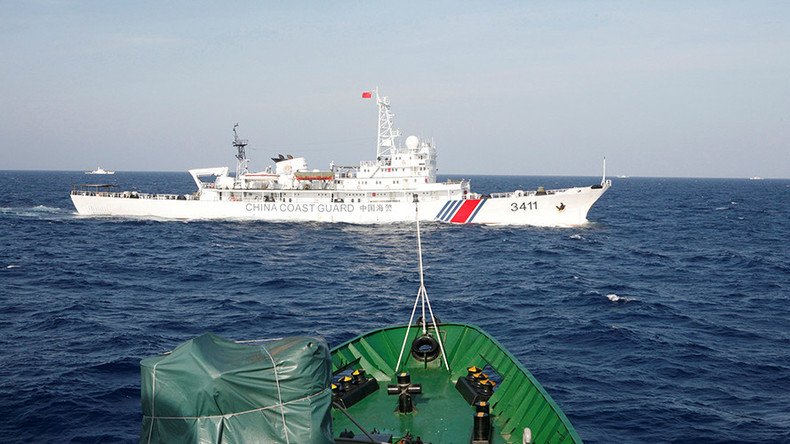 Chinese researchers are developing a portable nuclear reactor which would fit inside a standard-sized shipping container. Within five years it could become an ideal energy source for naval outposts on the contested islands in the South China Sea.
The nuclear unit is dubbed "the hedianbao", or "portable nuclear battery pack" according to a report by the South China Morning Post newspaper.
Despite the name, it's not some sort of a futuristic fission battery but a reasonably small, lead-cooled reactor which could fit into a standard shipping container, measuring about 6.1 meters long and 2.6 meters high.
With such impressively small dimensions, the device would be capable of generating 10 megawatts of heat, which, if converted into electricity, would be enough to power about 50,000 households, according to the report.
Research was reportedly conducted by the Chinese Academy of Sciences' Institute of Nuclear Energy Safety Technology in Hefei, Anhui province. The research program is partially funded by the People's Liberation Army.
"Part of our funding came from the military, but we hope – and it's our ultimate goal – that the technology will eventually benefit civilian users," the newspaper quoted Professor Huang Qunying, a nuclear scientist taking part in the research, as saying. The researcher said, however, that it would be rather difficult to convince public that the technology is safe enough to use.
The researchers reportedly admitted that the technology is similar to compact nuclear reactors used on Soviet submarines back in the 1970s. China seems to be the first to be planning to use such technology ashore. Previously, China considered the construction of conventional floating power plants to generate energy for the South China Sea islands.
An unnamed environment researcher at the Ocean University of China already expressed concerns about safety of the future reactor and impact of its usage on the ecosystem.
"Many fish and marine creatures will not be able to deal with the dramatic change of environment caused by massive desalination and the rise of sea temperatures caused by a nuclear reactor," the newspaper quotes the researcher as saying.
"If a nuclear disaster happened in the South China Sea, it would not have an immediate effect on people living on the mainland owing to it being a great distance away," the researcher added. "But the radioactive waste would enter the bodies of fish and other marine creatures and likely end up on our dining tables. Sea currents could also carry the waste to distant shores."
The South China Sea is at the center of tensions between multiple nations contesting waterway and offshore resources. China, the Philippines, Vietnam, Malaysia, Brunei and Taiwan – which Beijing considers part of its territory – have overlapping claims in the region. In July, a United Nations court of arbitration ruled that there was no evidence that China historically had an exclusive control over the waters or resources, hence there was "no legal basis for China to claim historic rights."
You can share this story on social media: